Critical Airlift to Save 76 Dogs
$70,000
Urgently Needed
$0
Raised
(0%)
Campaign Details
We desperately need your help raising $70,000 to airlift 76 dogs!
Most of these sweet dogs have severe health problems that require expert medical treatment they can't get in the Bahamas. They will either die or live the rest of their days suffering if left on the island. Not under our watch! We booked flights to the States for April 29 and April 30. These dogs deserve the best medical care and a chance to find a new life in loving homes. If we don't reach our goal in time, we'll need to tap into our emergency savings fund. We're hoping it won't come to that.
First, we want to say thank you for all of your generous donations and continued support. We know we've asked you to help a lot recently and understand that times are hard for everyone. You may remember we had to cancel one of our last airlifts because our ground transporter was in a vehicle accident. Those dogs went back to stay with Chella but rest assured, they will be going on this flight! Initially, we hoped to avoid asking for help and use funds raised for the canceled flight. It turns out we are sending more dogs than anticipated, and most of these precious souls have severe health problems. Will you please help us again? Any amount you can give will benefit these dogs.
Money raised pays for buying and shipping the crates on a cargo ship to the island, health certificates, permits, rabies vaccinations, all medical fees in the U.S., ground transportation, and of course, airfare. The plane is spacious enough for each dog to feel safe, and it is fully air-conditioned for them.
__________________________________________________________________________________________________________________________________
You may recognize 3 dogs out of the 76 going on the airlift:
ANATOLI – Chella found this innocent boy living in a school parking lot, where he was taunted and called the "Chupacabra." Anatoli was terrified of people, starving, and full of open wounds. Someone used him as target practice, and several B.B. pellets remain dispersed throughout his poor frail body. Anatoli's head tilt is involuntary and is a result of neurological problems. We don't know the cause yet. Was it blunt force trauma? Is there lead in the pellets? Is a nerve compressed? He has an appointment with a specialist in the U.S. to discover the root and severity of his condition and to find the best course of treatment.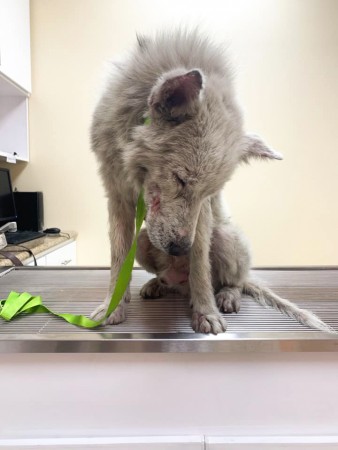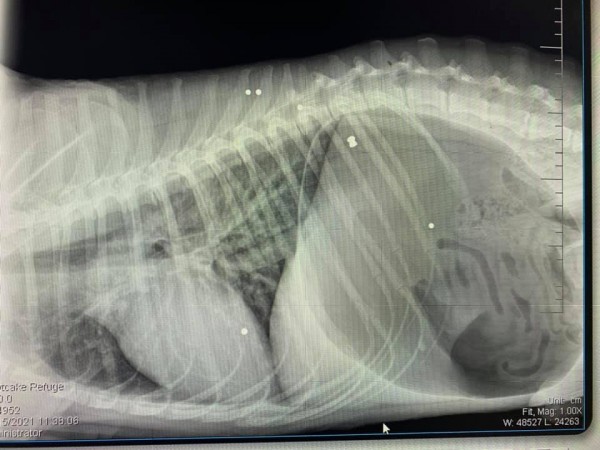 Anatoli started to blossom in just two days with us, and his broken eyes began to shine. He is happy, confident and has made friends with all of the dogs at the refuge.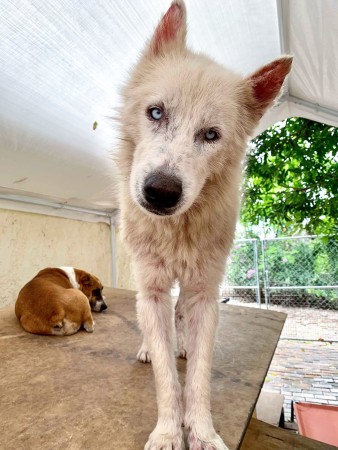 __________________________________________________________________________________________________________________________________
TIKKA – Chella received a message about a dog covered in ticks. Tikka was barely alive. No vet clinic would let her in because they feared tick infestation. Tikka was able to have her blood drawn in the vet parking lot. Chella spent nearly FIVE hours in the tub picking HUNDREDS of ticks off this darling girl. Her belly was full of feces and rocks, and she needed a blood transfusion that day because she was 100% anemic. The next day, she woke up swollen from head to toe, but it was the weekend, so all we did was pray.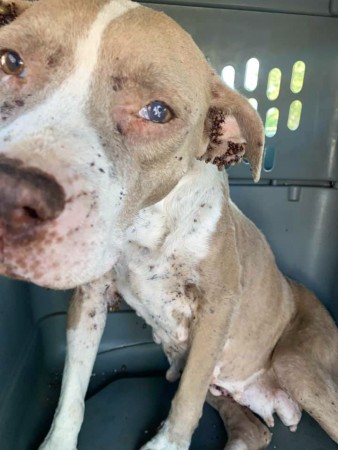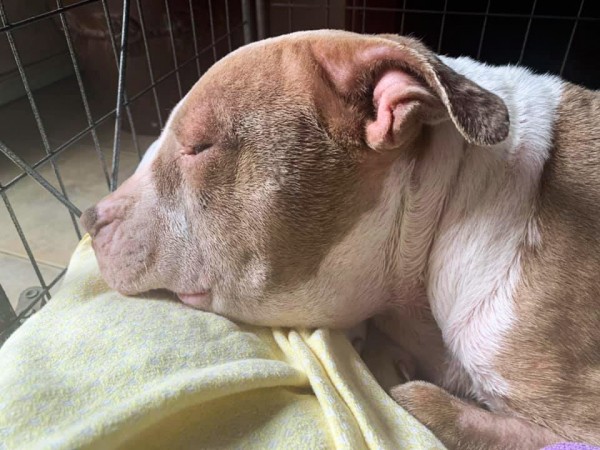 Now Tikka is coming out of her shell, showing her happy, silly self and becoming healthier each day. This precious girl deserves a loving family who will care for all of her needs and fill her belly with treats.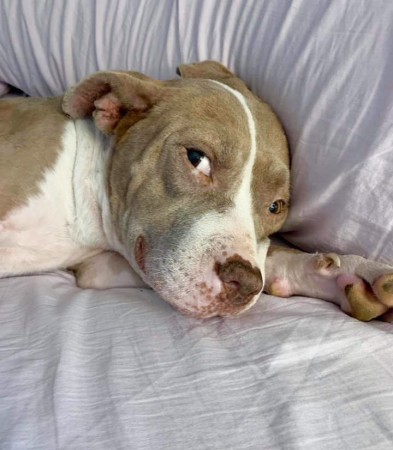 __________________________________________________________________________________________________________________________________
EUGENIA – On Chella's way to feed homeless dogs, she saw limping Eugenia passing a church, looking utterly defeated and dragging her dislocated back leg. Chella jolted out of the car and ran so fast she tripped, spilling some of the food and face-planted hard on the asphalt. She lifted her aching head, and Eugenia started shyly wagging her tail. She was starving and ate all the food, even everything that splattered during the fall––she even ate rocks. Eugenia was missing her front teeth. She looked at Chella with begging eyes not to be left alone, and her sweet face illuminated with joy when Chella picked her up. Once she was at the refuge, she never stopped wagging her tail.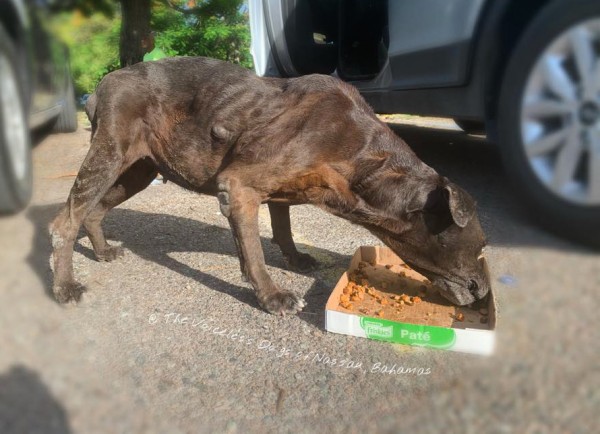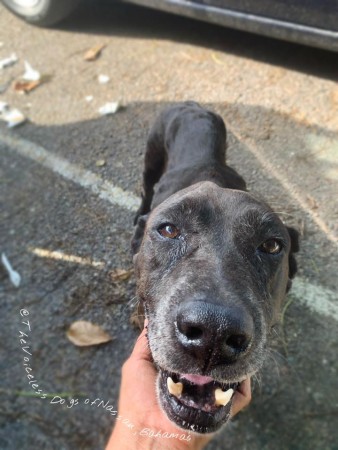 This gentle girl has kept her tenderness intact and wants nothing more than to love you. Eugenia was diagnosed with congestive heart failure and must be on the flight next week to be seen by a specialist.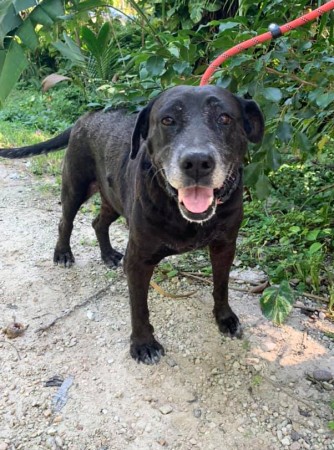 Will you please donate to help cover the cost of getting these precious souls off the island and into forever loving homes? Your life-saving gift will give them a chance at a new life and ensure Pawtcake Refuge has the funds to keep saving 100's more like them. These voiceless dogs of Nassau need us to fight to protect them. Please stand with us today and help them find their voice.
__________________________________________________________________________________________________________________________________
Dogs on the streets of Nassau get exposed to gut-wrenching cruelty. These dogs have rocks thrown at them, are tied up with wires, poisoned, purposely run over, shot, and left to die agonizing deaths. They experience unthinkable atrocities at the hands of vicious people. We find them living in ditches, abandoned in cars, sleeping in the mud with rats and cockroaches, starved, and scorched by the piercing heat.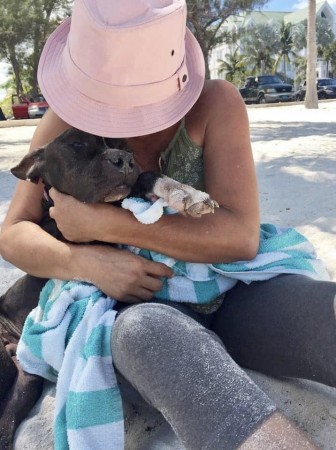 "The only humanity left in me is because of these homeless dogs that nobody loves on the streets. Because of them I feel alive despite the pain. Because of them I go through life helping as many as I can." – Chella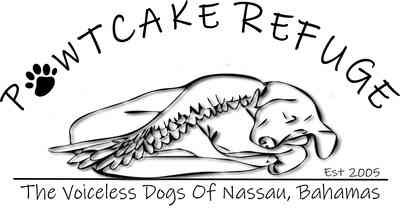 Pawtcake Refuge
About the Organization
PawtCake Refuge (The Voiceless Dogs of Nassau, Bahamas) is dedicated to rescuing abused, neglected, homeless, and abandoned dogs in the Bahamas. We are committed to every dog we save, providing them with all necessary medical care, and offering them the very best chance at a new life.
P.O. Box 54
Old Bethpage, NY 11804
USA
EIN: 81-3142530
---
Only fundraisers with donations show up here.