Fund the Flock: Naming of the DucksPigeon Key Foundation
---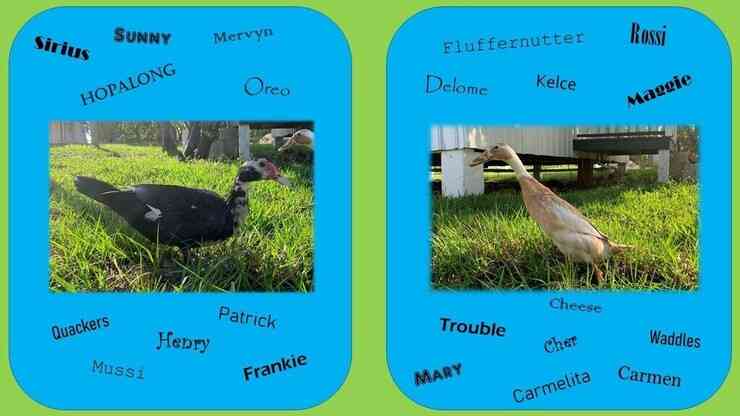 ---
The time is here! Submissions have been made and now it is your chance to vote on what we should name the two Pigeon Key ducks! We have received great name suggestions and would like to again thank everyone who has already contributed to this fundraiser. Your donations go towards the upkeep and care of the ducks. Most recently, we have been able to get them a new pool, which has been a hit for these two!
The second phase of the donation is here and there is still time for you to get in on the "Fund the Flock" fundraiser by voting on what names you think best fit Duck One and Duck Two. Voting starts March 1st and will go until March 31st. Please look at the list of names below and pick your favorites. It is $10 for each vote and you can vote unlimited times.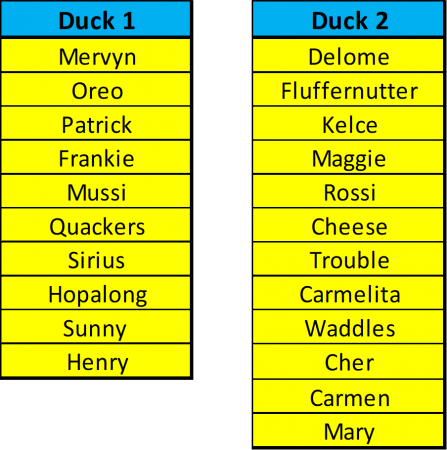 Please write your name vote(s) in the comment box when filling out the donation form. If you are voting for 2+ names and want multiple votes for the same name, please indicate how many votes you want for each name.
For example:

Now to share some news about our newest Pigeon Key friends. The Pigeon Key Foundation is happy to share that the ducks have been acclimating very well to their new home. Duck One has gotten more adventurous in his explorations and can be seen wandering all over the eastside of the island. He also has been flying for slightly longer distances and has bonded with some resident ibis. Duck Two has begun to venture out and can be heard quacking at Duck One across the island. She also has laid 4 eggs, a great indicator that she feels safe and comfortable in her new home. These two are a natural fit out here on the island and we cannot wait for you to come out and meet them!
Duck 1: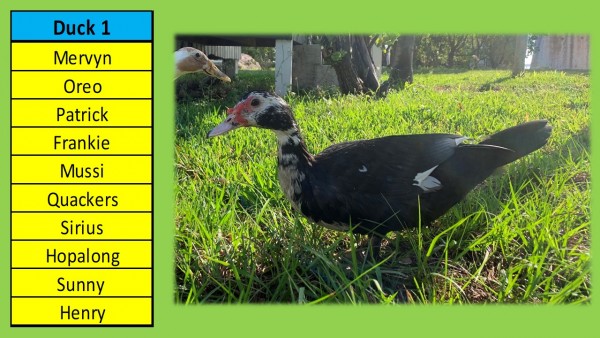 Duck 1 is a male Muscovy duck and the larger of the two birds. He was brought to the Bird Sanctuary after having lost the bottom half of his leg as a duckling, making it difficult for him to walk. This, however, has not put a damper on his explorative nature. Duck 1 is a fantastic short distance flyer and we have found Duck 1 all over the island, exploring and staking out his claim here on Pigeon Key. When not traveling, Duck 1 spends most of his time with Duck 2 (they have become nearly inseparable) eating, sleeping, or splashing in their pool. Duck 1 is very shy and definitely the more soft spoken of the two but is also friendly and curious about people and the island. His favorite snack is dog food and he can be found nestled right next to the food bowl.
Duck 2: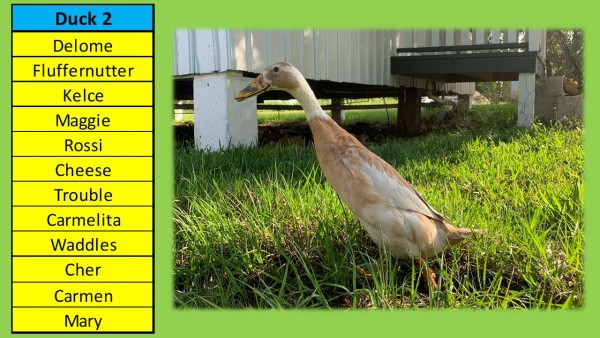 Duck 2 is a female Indian Runner duck and is very outspoken. Born with a clubbed foot, Duck 2 is slightly slower than her duck counterparts but that does not stop her. She is very food motivated and can move surprisingly quickly when a snack is on the line. Duck 2 has a very sweet disposition and while she is shy, she has begun to warm up to some of the staff here on island. Indian Runner ducks are not able to fly as a species, so she has not traveled as far as Duck 1. Duck 2 is very attached to Duck 1 and gets frazzled when he goes on one his trips. She has an enrichment mirror in her area of the island and enjoys laying in front of it and watching herself (she is a very pretty duck). Duck 2 also loves hunkering down in piles of towels in the sun and can be heard quacking in the early morning hours, or really any time actually.
$860

of

$3,000

Raised

Powered by GivingGrid

---
$200 Contribution made by Benjamin Evans.
Mervyn - 10 Votes Delome - 10 Votes
$50 Contribution made by Mia Mezini.
Duck 1: Sunny Duck 2: Cher
Contribution made by Someone who cares.
Duck#2. CARMEN
$50 Contribution made by Jennifer Cecil.
Duck 1: Henry Duck 2: Mary
$50 Contribution made by Doug Clarke.
Duck 1. HOPALONG Duck 2. WADDLES
$30 Contribution made by Dianne Mckinnon .
I think she is the color of Carmel candy. I think her name should be Carmelita. 
$50 Contribution made by Someone who cares.
Duck 1:  Sirius Duck 2:  Trouble Named for our black/white pup Sirius and our buff/white pup Trouble who have made all the difference during Covid!  Enjoyed my three summer camps with you.  Especially squid dissection!  Dylan
$50 Contribution made by Ted Evans.
Duck 2 - Cheese Duck 1 - Quackers
$150 Contribution made by Fred Young.
Duck 1 - Frankie Duck 2 - Maggie
$50 Contribution made by Jennifer Cecil.
Duck 1: Patrick Duck 2: Kelce
$50 Contribution made by Patty Ivey.
Duck #1 looks like an "Oreo" to me! Duck #2 is definitely "Fluffernutter" because it's brown & white.  People from the northeast will know this name from the peanut butter & marshmallow fluff sandwich! 🤣
$50 Contribution made by MARCAILA EVANS.
This just makes me so happy.  Duck 1 - Mervyn Duck 2 - Delome
$50 Contribution made by Ben Evans.
Duck 1 - Mervyn Duck 2 - Delome