In Honor of Betty White
$2,500
Our Goal
$0
Raised
(0%)
Please pick your very own square with a heart below to donate!
Please pick your very own square with a heart
below

to donate!

If you're in a hurry, just enter the amount below you'd like to donate and we'll find you the best available square.
Thank you Betty for a lifetime of love laughter and animals
Updates
Update

Betty White would be delighted by the outpouring of love and giving to animal causes that marked what would have been her 100th birthday. The donations and appreciation that were given to Catmandu as people honored her life and memory were beautiful and truly floored me. Reading the comments and looking at the pictures posted with the donations touched and inspired me more than you can imagine. Thank you so much for caring and sharing, whether your fur baby (or babies) are Catmandu alumni or not!

Through donations large and small, Catmandu received $8650 in honor of Betty and the celebration of her life and dedication to animals. It is so much more than I ever expected! Thank you so very much for your support as we continue the work of caring for the kitties that Betty loved and championed.

While I don't know what comes after this life, I hope with all my heart she is reunited with her beloved husband Allen and surrounded by all the animals she loved and saved. Meow! means Thank You for donating and Thank You Betty for your legacy of kindness!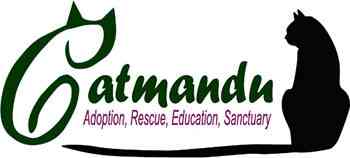 Catmandu
About the Organization
Catmandu is a unique cage-free sanctuary and rescue for cats in northern Nevada that focuses on satisfying their physical, mental and emotional needs. We help cats of all ages from everywhere in northern Nevada and also offer a senior to senior long-term foster program that matches senior citizens with senior cats age 10+. At any given time, we are usually caring for 100 or so adoptable and sanctuary cats.
1829 Brown St
Carson City, NV 89701
United States
EIN: 46-3185779