Bring the Rose Garden Back to Life!
Fishtown Neighbors Association
Updates
Update

10/9 update: It's official! Yesterday we closed the deal on the Rose Garden, officially purchasing the pocket park at Frankford and Belgrade from NKCDC. We're incredibly grateful to our volunteers, everyone in the neighborhood who's supported the project, the Elliss family and Penn Treaty Special Services District for their part in helping Fishtown Neighbors Association preserve and improve this vital neighborhood space.

Brick updates: If you have donated at the Crease level, we sent out an email earlier today with a link to complete your custom message for the brick paver. Please email beautification@fishtown.org if you do not see the email (it may be in your "Updates" or spam folder).

What's next? You will see us start to restore the space this fall, and we anticipate revealing the revamped Rose Garden to the community in the spring! During this time, we are continuing to accept donations so that we can add a unique art centerpiece and support ongoing maintenance of the park. Please help spread the word about our campaign!
Fundraise for this Campaign
Campaign Details
Fishtown Neighbors Association (FNA) is the 501(c)3 nonprofit and registered community organization of the Fishtown neighborhood. Our vision is for a vibrant, thriving, and unified Fishtown.
Over the past year, FNA has been working to acquire and restore the Rose Garden parcel at Belgrade and Frankford. After talking with neighbors, community members, and landscape designers, our design reflects the neighborhood's desire to create an inviting corner park on the bustling Frankford Ave while honoring the historical significance of the Rose Garden for Fishtown.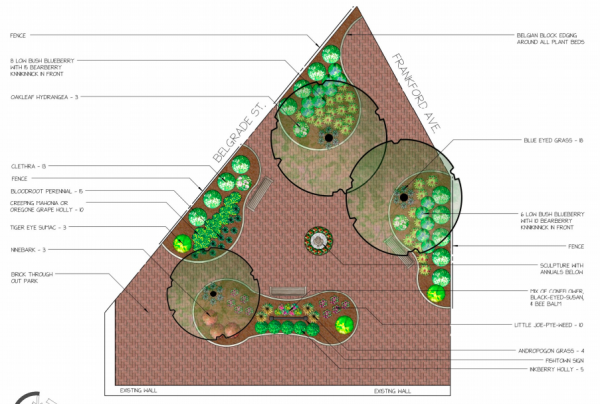 Your generous donation will support substantial restoration of the Rose Garden, including the following elements:
locally fabricated Corten steel planters with built-in wood benches

a variety native plants mixed in with existing rose bushes

square cut clay bricks paved in a herringbone pattern

a secure water source

tree pruning

regular maintenance
We cannot do this work without financial support from neighbors like you. Every dollar donated will help restore this lot into a much-needed community green space, and donations of any amount are greatly appreciated.
As a thanks for your generous support above $250, we will honor you with the following gifts based on your donation level.
Crease Sponsorship - $250 to $2,499
(NOTE: No more custom bricks are available at this time.) Make your mark on a permanent piece of the Rose Garden. A Crease Sponsorship will get you a brick paver ready for your custom text. Honor a loved one, thank a friend and let the whole neighborhood know that you helped create the Rose Garden.
(NOTE: 0 remaining) Belgrade Sponsorship - $2,500 to $4,999
With your generous donation, you can make sure there is plenty of seating in the Rose Garden for people to pause in the busy corridor. Your will have a plaque on one of the three benches at the Rose Garden. (Limit 4, 0 remaining as of 10/15/2019)
(NOTE: 0 remaining) Frankford Sponsorship - $5,000+
Your generous donation of $5,000 or more includes an honor in the form of a giant "Made Possible by" plaque. Whether you are an individual donor, family, foundation or business, you can leave your positive mark on Fishtown. (Note that multiple names will be on one large plaque.)
(Please note that engraved items will not be available for delivery until construction and installation of the Rose Garden. Donors receiving an engraved item will be contacted for their custom text once the funds have been raised and the improvements are about to take place.)
---