Happy Holidays
$18,500
Our Goal
$0
Raised
(0%)
Campaign Details
The needs are too many to mention in Ashaiman, Ghana. This poor community is full of street children who need our help.
ANGEL RECRUITS ARE NEEDED. PLEASE JOIN THE ANGEL ARMY TODAY!
PLEASE DONATE TODAY AND SHARE OUR CAMPAIGN WITH YOUR FAMILY AND FRIENDS ON SOCIAL MEDIA.
THANK YOU AND GOD BLESS!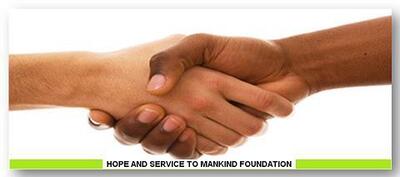 FLOATING CRYSTALS ACADEMY
About the Organization
The Hope And Service to Mankind Foundation was founded in 2011. We are committed to serving MANKIND by providing the basic amenities of life to the helpless and needy people of all communities and also by encouraging children, people with disabilities, adults, and youth through education and employment. We started the Happy Children's Project and Floating Crystals Academy in 2017 to serve poor and needy children in the community. ​
P. O. Box 28 Monkey Forest, DTD Klagon-Lashibi, Community-19, Sakumono-Ghana.563
Ashaiman, Ghana, West Africa 23000
Ghana, West Africa
EIN: 84-4972701
---