Created for rescues and shelters severely impacted by COVID-19.
COVID-19 has turned our world upside down. Most of the rescues and shelters we support are always struggling to make ends meet, but now this virus has made it almost impossible. We've seen numerous campaigns started and have received countless emails asking for help and sharing hardships. We've been helping as much as we can, but we wanted to do more, so we created this platform specifically for you, in this time of crisis.
Our Urgent Help for Animals platform has been a huge success helping rescues raise money fast for animals that are ill or injured, so we tinkered with it and turned it into a tool to raise money fast for your rescue/shelter!
Instead of fundraising for one animal, now you're fundraising for your survival. So now, build a campaign to urgently ask for help for you. Plead for help from the heart.
You guys are amazing and resilient! Let's see if we can help you better weather the storm.
See Example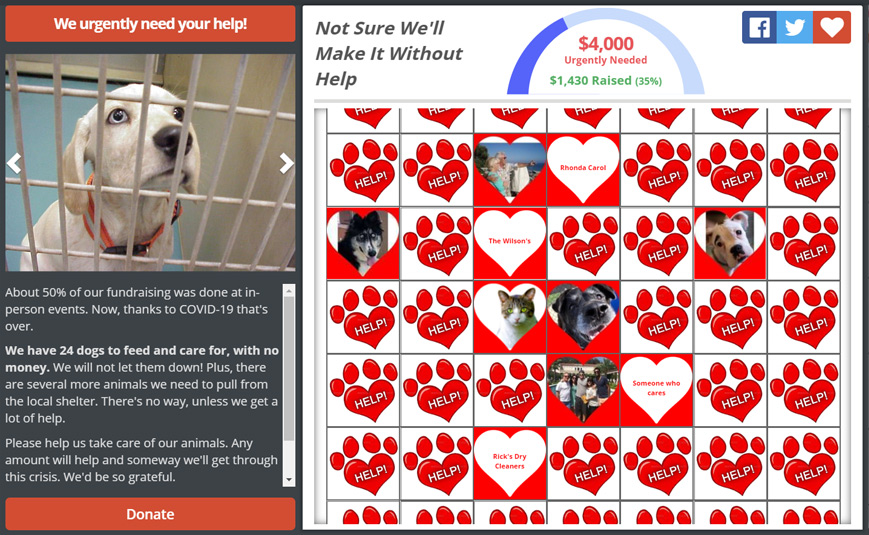 Just like with Urgent Help for Animals,
Urgent Help for our Rescue:
Is simple, so you can even create the campaign from your phone.
Is free and we charge you zero fees!
Automatically connects to your PayPal or Chase/WePay account and donations flow straight in.
Easily creates an email blast right from your campaign, with a click of a button.
Easily posts to your Facebook, Twitter or other social media pages.