Help Holden, Jester & Bella
SNAP 2 IT
Campaign Details
HOLDEN "ON" for his life
We're not sure how this tiny orange fluff ball - now named Holden - arrived at a Lawrenceville feral colony Monday night, but he certainly announced his arrival. Our colony caregiver heard cries of distress pierce the evening gloom and despite the threatening rain, she quickly located Holden, all 1 pound of him, desperate and hungry, cowering near a feeding station. A scrap of hungry damp orange fur, a scary amount of blood, and a squeal that would pierce any animal lover's heart led our caregiver straight to him.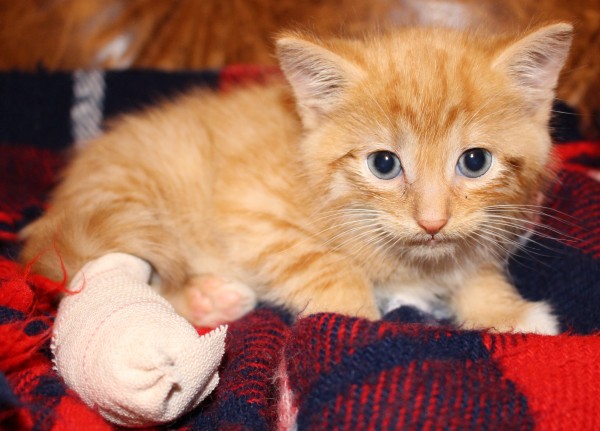 Our volunteer worked with SNAP to quickly whisk the little man to the vet. There, we learned that Holden is scarcely a month old, and his injuries came from being trapped in a running engine where he had likely been sheltering from rain and the cold breezes Atlanta's change of season has brought. The laceration on his foot is dangerously infected, but his x-rays reveal the real danger: the little boy's left hip and femur are injured, misaligned, out of socket and probably beyond treatment with fragments of bone floating near his hip socket. The most compassionate thing for this tiny tiger will be an amputation to avoid the pain the inoperable bone fragments will cause and the inevitable infection that accompanies an injury this grave.
Our director named this orange-striped, white-booted, peach-nosed kitten "Holden" after learning the extent of his injuries and the challenges ahead, because this is certainly a small life that is "holdin' on" for all he is worth. Today, SNAP has him in closely monitored foster care where he is being assist-fed and relies on expert help to keep his bowels moving until he is well enough to resume bodily functions on his own. Barring unforeseen complications, Holden's outlook is bright once he is healthy and well enough for full treatment. This is a crisis averted, a story with a happy ending, and a reminder to check our engines before driving all at once! Tripod kitties adapt well, and Holden will thrive with treatment and a loving home.
SNAP needs your help to offset Holden's medical expenses to create our own Holiday Holden miracle. Totals for Holden's medical bills are at $900, and we anticipate a long recovery time until Holden is well enough to be placed with a forever family. If his story touches your heart as much as it touched ours, please make a donation today to help cover the cost of his life saving surgery.
JESTER, The King's Jester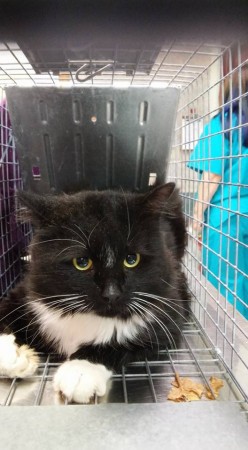 This handsome boy was trapped due to an urgent call for what was thought to be a broken foot and has turned out to be a broken leg. Jester is in need of surgery to repair his upper femur and he is quite the King's Jester. It took a very patient trapper to catch this charming boy, with three cans of food, due to his injury, he was able to get the food without tripping the trap. But we were finally able to outsmart him. At present Jester's medical bills are $342.00 and surgery to repair his broken leg is $1200. With your support and our team of volunteers' love and support we will be able to help Jester recover fully from what we suspect is a hit and run accident with a car. He is very sweet and loving and after recovery will be available for adoption.
Bella, Ahh.. Sweet Bella!
Although sweet Bella once had a loving family, SNAP was contacted when she was found chained to a tree. We welcomed Bella into the SNAP family with open arms and adore this friendly 35 pound girl who loves people, children, long walks and play time. Even though her former people may not have cared for Bella in the best way, she has a gentle temperament and shows no food or toy aggression. She even shares with other pups. Right now Bella is undergoing Heartworm Treatment and SNAP needs your help in several ways:

· Entertain a holiday friend. Bella cannot stay in boarding for Thanksgiving because all facilities are full! Would you be willing to welcome this sweet girl home for a Thanksgiving nap with your family?
· Welcome Bella home for good. We are accepting applications for Bella's permanent family. ADOPT This family-friendly girl will be a joyful companion to the right lucky household.
· Help us defray costs. The cost to care for Bella and boarding her have mounted quickly to a current total of $550.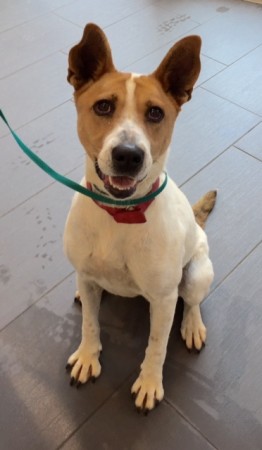 About the organization
SNAP 2 IT
UNITED STATES
---