Campaign Details
It only took one bite from a mosquito to change Bear's life forever.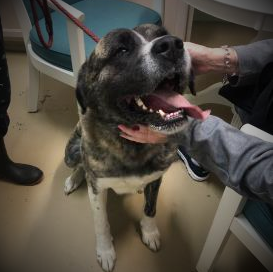 Bear was only three years old and was an Anatolian Shepherd/Great Pyrenees mix, a big boy with a big life ahead of him and the gentlest soul you ever met. With an easygoing and loving nature, he was the calmest dog you could meet and would have been a wonderful member of any family, even one with cats.
But Bear never received the sort of training a dog deserves, and he had been kept out in a neighbor's yard after a hurricane destroyed his family's fence. Bear didn't know what toys were or how to walk on a leash, but his greatest foe ended up being something preventable: heartworms from a mosquito bite.
When he came to the shelter, he tested positive for heartworms but there was no indication of how bad it was until he went for his first neuter surgery. Complications arose because the worms had attacked his heart, and when the vet went in a second time, Bear passed away.
Here at the SJBHS, we believe all dogs deserve the chance to have a full life, and that includes dogs with heartworms, so on top of making sure every dog receives monthly heartworm prevention, we also go the extra mile to treat dogs that arrive with full-fledged heartworm disease. Already, one month into this new year, half of our rescued dogs have tested positive for heartworm. That is 10 out of 20 dogs; a lot of treatment for a lot of dogs!
Bear's death was preventable with oral or topical heartworm preventation like Heartgard.
A pinch of prevention ...
Given to a dog monthly costs about $100 a year
Kills heartworm larvae and saves your dog from the dangerous complications of heartworms
Can be bought at stores or online
Whereas letting heartworms grow inside a dog ...
Can lead to loss of interest in exercise and food, fainting, breathing difficulties and coughing, and organ damage and failure
Can cost $800 to treat and takes a month of rest in between injections to kill the adult heartworms and let them decompose
May result in damage to vital organs like the heart, lungs, and arteries
Left untreated, it is terminal and results in death for the infected dog
So please join us in Healing Hearts
and be the hero to a dog with heartworm disease. You can help these dogs recover and find forever homes with people who truly love them. And please, always remember to protect your dogs with monthly heartworm prevention.
We can't do this work without you. Help heal a dog's heart by sparing what you can, whether that's $1 or $100, and share a little piece of your heart with the dogs this February. Every $400 raised means another dog with heartworm disease can be saved, thanks to the amazing Dr. Fulmer at Apalachicola Bay Animal Hospital who offers such a steep discount out of love for the rescue animals at our shelter. And please, hit those share buttons and let your friends know how they too can heal hearts!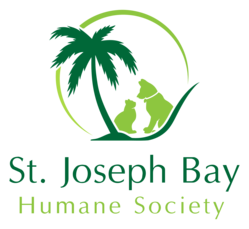 St. Joseph Bay Humane Society
About the Organization
St. Joseph Bay Humane Society serves all of Gulf County, Fl. We take in more than 500 animals every year. Over 80% of the dogs we receive are heartworm positive. We never euthanize healthy or treatable pets or euthanize for space. All animals that can be rehabilitated with medical or behavioral treatment within our means are treated. Our ultimate goal is to place each pet in a loving home, perfectly suited for them.
1007 10th Street
Port St. Joe, Florida 32456
UNITED STATES
EIN: 59-3487791
---
Updates
Update

Thank you from Sadie

Thanks to your generous donation, we have raised $800 so far, which is enough to provide full heartworm treatment to two dogs thanks to the discount Dr. Fulmer at Apalachicola Bay Animal Hospital gives us. That is going to help save the lives of dogs like Sadie. Sadie is one of our dogs that went into foster with a board member of the SJBHS, since she was so sad and depressed living at the shelter even for a little bit. Needless to say, they fell madly in love with Sadie, and have since adopted her and renamed her A.Z. (Another Zipper) to match her new brother, their first rescue dog, Zipper.

While Sadie has received monthly heartworm prevention since coming into the care of SJBHS and her new home, the heartworms that had grown inside her previously are still alive and so she will be undergoing heartworm treatment to rid her of this ailment once and for all. And to think, you have helped us save two lives already - we cannot thank you enough! Please continue to share our Healing Hearts campaign so more people can see it and might donate to save the life of a dog with heartworms.