Help Senior Dogs Blossom!
Grey Muzzle
Updates
Update

You did it! Thanks to your generosity, with one day left in our campaign we have exceeded our goal, raising $10,748 thus far. With the amazing match from two generous donors, that means more than $20,000 for senior dogs who need a second chance.

We have one day left, so please feel free to share the campaign with friends and family who--like you--envision a world where no old dog dies alone and afraid. Thank you from all of us at Grey Muzzle for having a heart for senior dogs! Together we can help even more older dogs blossom!

My best,

Lisa Lunghofer, Ph.D.
Campaign Details
If your heart has been touched by an old dog, you know how much they have to teach us about loyalty, compassion and eternal love.
The old dogs that share our hearts and homes are part of our family. Sadly, many old dogs are not that fortunate. Senior dogs slow down. They develop medical issues. And many find themselves alone, afraid and at-risk in shelters across the country. The Grey Muzzle Organization creates happy endings to these heartbreaking stories--on a national scale. We improve the lives of at-risk senior dogs by providing grants and other resources to animal welfare organizations nationwide. Examples of the kinds of programs we support include in-home hospice care, Seniors for Seniors adoption programs, medical assistance and beds for old dogs at shelters, and education programs to encourage adoption and quality care of senior dogs.
We are the only national organization solely focused on the well-being of senior dogs.
YOUR DONATIONS AT WORK
Like the first flowers to bloom after a long winter, senior dogs enjoying the sweet smells of spring warm our hearts.
Thank you for giving Lilly and other old dogs like her a second (or even third) chance to begin new lives as cherished family members.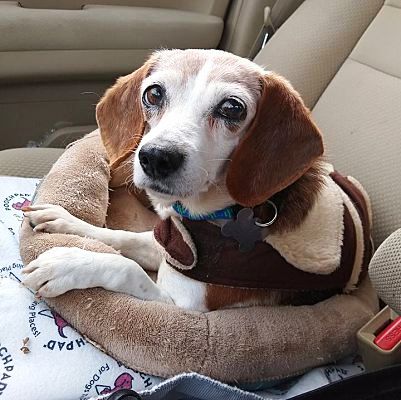 Weighing in at just 13 pounds, Lilly didn't have the happiest start in life. She was bred to be a hunting dog, but not very good at it. So, her first owner gave her away. Then in her second home, she was consigned to live outdoors in a "beagle hutch"—a barebones wood and wire cage like a rabbit hutch. That's no way for a beloved companion to live her life.
After her second owner passed away, Lilly luckily came to our grantee, Highland County Humane Society. Thanks to a Grey Muzzle grant that you made possible, 10-year-old Lilly got the veterinary tune-up and time she needed to become ready for adoption. Her age and lack of socialization meant it would take some extra oomph to find her a forever home.
Lilly is one of thousands of at-risk senior dogs who have blossomed because of your kindness. This spring, won't you please help other deserving old dogs begin new lives?
While she's slowing down a bit, Lilly still follows her nose like a true beagle. Happily, this past holiday season, her nose led her to just the right home. Lilly's new family provides lots of love, soft dog beds and snacks—every dog's dream come true!
Last year, your incredible support resulted in $390,000 in grants going to 66 animal shelters, rescue groups and sanctuaries in 30 states. Now, we're busy planting our Grey Muzzle Garden for 2019. We're currently reviewing 240 grant applications from nonprofit groups all around the United States. The amount of Grey Muzzle grants to be awarded later this month and the number of at-risk senior dogs who will benefit depend on your compassion and generosity.
You can help us plant an even bigger Grey Muzzle Garden this year. Please pick a flower from our giving grid and replace it with a photo of a senior dog who is close to your heart.
Thanks again for giving Lilly and so many other precious senior dogs the love and cultivation they needed to spend their golden years in loving homes. Together, we can give even more old dogs the chance to blossom and experience the kind of love we share with our own senior dogs.
Grey Muzzle
About the Organization
14460 Falls of Neuse Rd. Suite 149-269
Raleigh, NC 27614
United States
---