Giving Tuesday for the Bloodhounds
$5,000
Urgently Needed
$0
Raised
(0%)
Campaign Details
Without the generosity of donors, our work in rescuing these hounds could not be possible. In order for us to continue to provide the transport, medical treatment, food, and anything else needed for the dogs comfort and well-being in a foster home, we encourage donations when possible. If you aren't able to make a monetary donate, sharing our rescue on social media can help us reach even more potential adopters, volunteers, and donors.
Our rescue is a 100% volunteer based operation, there are no paid staff positions. West Coast Bloodhound Rescue is not a shelter based facility, but instead we rely on foster homes to care for these hounds until a forever home is found. This gives us the opportunity to better assess each dog individually in a home environment so that they can be paired with homes that best fits their individual needs.
Our rescue solely operates strictly on a donation basis. The average veterinary cost for each bloodhound that comes into our rescue is a minimum of $700, but every year medical expenses increase.
Your generous donations may be used for any of the following:
Being brought up to date with all immunizations.

All hounds that come to us are microchipped, if not already.

Some hounds need to be spayed or neutered.

All hounds are heartworm, fecal, and blood tested.

Many receive dental care such as cleanings and extractions.

We often take on bloodhounds that are injured, require surgeries, or who have had neglected medical conditions.

We may provide behavioral assistance, or resources, if that is what the dog needs to thrive in a new home.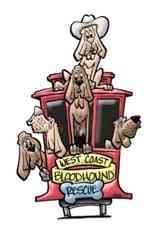 West Coast Bloodhound Rescue
About the Organization
West Coast Bloodhound Rescue is a non-profit 501c3 volunteer based organization. Our mission as a rescue is to help bloodhounds in need with the end goal of pairing them with their perfect forever home. ​We are a specialized breed specific rescue intended mainly for bloodhounds, but we occasionally assist bloodhound mixes. Bloodhounds are not a common breed and have very different needs compared to the more common dog breeds.
1512 Burlingame
Burlingame, CA 94010
United States
EIN: 47-4137913
---