Campaign Details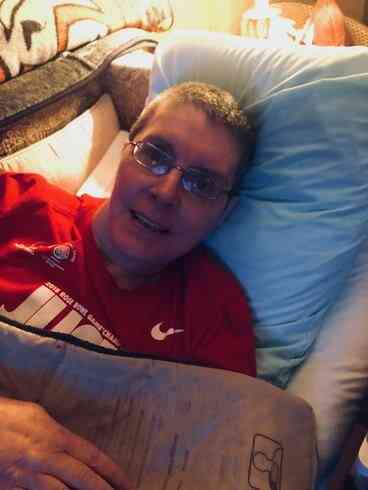 Meet Louanne "Jake" Bradford. You should really get to know her – she's lived an adventuresome life. She's got some funny stories to tell! Born July 8, 1959, Jake is a native of Georgia. She grew up in Lawrenceville, a suburb of Atlanta. She was diagnosed with multiple sclerosis in 1996, cutting short a promising career as an EMT.
MS is so unpredictable with each individual. Since Jake was diagnosed in 1996, she feels luckier than most, but her days are now filled with unbearable pain.
What happens with MS: When myelin or nerve fibers are damaged or destroyed in MS, messages within the central nervous system are altered or stopped completely.
As her legs slowly deteriorated, Jake turned her life to mentoring women whose lives had been destroyed by drugs and alcohol. Even today, in spite of the pain she endures, she will still listen to and assist women in need.
From 2002-2010 she led a choir at the Rock Eagle Workshop (a spiritual retreat for women), but finally the pain in her nervous system affected her entire body and her legs were of no use and she was forced to give up that volunteer work. Even as her body has weakened, however, she still mentors women from her sofa bed.
Today, she has weakened to the point that she has no use of her legs and her doctors must visit her in her home. She lives with her 89-year-old mother, who is also wheelchair bound. She suffers intense migraines, and Medicaid does not supply her with enough medicine to fight them on a regular basis.
In fact, Medicaid only covers a small portion of Jake's needs at this point in her disease. She depends on outside help and contributions to meet her ever growing health issues.
Today, Jake's good days are filled with aches and pains in her body. Her bad days are filled with agony, unbearable pain and migraines. Yet, she has faced all of her challenges with dignity and grace. She is someone I look up to.
If I could, I would loan her my legs so she could walk on the beach and feel the sand on her feet.
In honor of Jake, I am going to run a half marathon here in Atlanta on October 27. Follow our journey at www.run4jake.org, and please help us take care of Jake with a donation to her Grid. Please feel free to donate as often as you like.  The grid will be up until my race in October.