Help These Dogs Walk Without Pain!
$4,025
Urgently Needed
$420 Raised
(10%)
Campaign Details
Podencos are Sighthounds, used as hunting dogs in Spain. They often suffer horrible abuse and neglect at the hands of their owners. Given barely enough food to survive and kept in cold, dark, damp crawl spaces, tied with short chains to walls, these dogs still do their best to please their owners. If they become injured, they are still expected to hunt and are rarely given medical attention. After hunting season has ended, these dogs are often forgotten, left to starve, dumped, thrown away, hung from trees, or shot. They are rarely spayed or neutered and it's common to find pregnant Podencos, or those with newly whelped litters wandering the streets and scavenging for food.
Luckily, there are rescues, like Hope For Podencos, that take in hundreds upon hundreds of these forgotten dogs every year. Most find their forever homes all over the world. We've taken in 3 Special Needs Podencos from Hope For Podencos into our Sanctuary so far and are looking forward to caring for Adam and Rocky as soon as they are able to travel.
While Hope For Podencos has a highly skilled veterinarian who specializes in treating trauma cases, they don't have the resources to do extended rehabilitation. We are taking Rocky and Adam because we do have the ability to do the post-surgical care and extended rehabilitation required to help these dogs walk again. Our Sanctuary was built specifically for frail, lame and medically challenged dogs. We have a Pulsed Signal Therapy machine that helps to rebuild bone and rejuvenate injured tissues and we have a veterinarian on board that specializes in treating lame dogs.
Hope For Podencos often states that "Together We Are Stronger!" We know that it takes a village to rescue and rehabilitate abused animals. Every dollar donated helps these dogs and strengthens the village and sends a message that these dogs are worthwhile, deserving and loved. Please, please help spread the word, and/or make a donation, if you can!!!!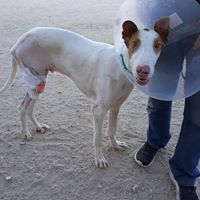 EPILOGUE … Hunting season ended in Spain on February 1st. Hundreds, if not thousands, of Podencos will be in need of rescue. Many will die before help arrives. Many will end up in the killing stations because there just isn't enough space in the shelters and rescues. When a Podenco gets adopted or transferred to a Sanctuary like ours, another one can be saved. PLEASE, PLEASE help us help these dogs.
NE Ohio Greyhound Rescue
About the Organization
NE Ohio Greyhound Rescue, Inc. is dedicated to taking in Retired Racing Greyhounds, Podencos from Spain, and other Sighthounds in need and providing them with the highest standards of care possible. We focus first and foremost on rescuing the Senior and Special Needs dogs – those with advanced age, medical issues and/or behavioral problems that have been overlooked by others and have no other place to live out their lives.
P.O. Box 3
Austinburg, Ohio 44041
UNITED STATES
EIN: 20-5643423
---
Updates
Update

Rocky managed to chew his sutures and has been in the hospital since February 7th. Because of all the metal in his leg, it's crucial that he doesn't get another infection. Both Rocky's and Adam's vet bills are rising, and we need help raising funds. We still need to raise funds, so spread the word. THANKS!

Update

Rocky got through his surgery this week! He's walking a few minutes several times a day. Adam will need a second surgery to remove a pin and repair a ligament, but he's also doing well. We still have a long way to go to meet our fundraising goal, but we won't give up!