We're in trouble!
$2,500
Urgently Needed
$4,027 Raised
(161%)
Campaign Details
COVID-19 is truly making things incredibly difficult on us, but we will not stop saving animals. We will figure it out, but sure could use some help...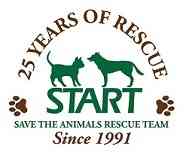 START, Save the Animals Rescue Team
About the Organization
S.T.A.R.T. relies solely upon the funds raised through Fundraising Events, private contributions, members' financial support and grants to carry out our rescue efforts. Because S.T.A.R.T. is a no-kill organization without a shelter facility, all our rescued animals are fostered by families until they are adopted. S.T.A.R.T. works actively to alleviate the local pet overpopulation crisis through our ongoing (TNR) Trap, Neuter, Return program.
PO Box1098
Little Falls, NJ 07424-8098
USA
EIN: 521765363000
---
Updates
Update

START and the fur-babies appreciate the Support, Love, and Well Wishes! We could not have helped them without you!

Here are a few updates:

Updates as of today 10/30

Blackie is fitting in well at his new foster home and has the company of another kitty. He still needs help going to the bathroom but seems to be improving. His broken leg is on it's way to healing completely. Blackie just needs time to heal, we are still hoping a full recovery is in his future..

Sparrow is weighing in today at 2.0lbs, she is gaining weight slow but sure! We were asked to wait on her eye removal surgeries because she was too small; now surgeries are backed up due to the pandemic.

Sparrow will need to wait a little while longer to have her eye removed. Most likely she will be spayed at the same time. She is doing well in her foster home and loves her 2 foster buddies.

Mojo's surgery to remove his ear polyp has been postponed due to a Covid outbreak in the hospital. Mojo is looking so much better these days; he is the happiest little guy!!

Thank you for the prayers and support!! Hugs and Kisses to All!!

Sincerely,
START, Save the Animals Rescue Team

Update

START and the fur-babies appreciate the Support, Love, and Well Wishes! We could not have helped them without you!

Here are a few updates as of today:

Blackie is recovering from his broken back leg and nerve damage at his new foster home. Shortly, he will need to go to a specialist for nerve and bladder issues. We are still praying for a full recovery.

Sparrow is weighing in today at 1.5lbs, she is gaining weight slow but sure! The surgeon would like to wait to remove her eye until she gains some weight. She is not in any pain and continues to get the TLC she deserves.

Mojo is waiting on a confirmation for surgery to remove the polyp in his ear. We are hoping the head tilt will correct itself once the polyp is removed. Mojo is happy and playing with his foster family.

Thank you for the prayers and support!! Hugs and Kisses to All!!

Sincerely,
START, Save the Animals Rescue Team