Celebrating the Perfect Match!
The Grey Muzzle Organization
Updates
Update

We did it! Thanks to your generosity and efforts to spread the word about the amazing match from our friends at Stella and Chewy's we exceeded our goal, raising more than $5,000 in our Perfect Match campaign! That means more than $10,000 to support Seniors for Seniors programs in 2017.

Thank you for the beautiful pictures you shared and dedications you wrote. I was moved by your profound love for your dogs and compassion to help those who are less fortunate. Thanks for having a heart for senior dogs and for sharing that love! I can't wait to share stories about the perfect matches you made possible!
Campaign Details
MAKE VALENTINE'S DAY SPECIAL
With Valentine's Day around the corner, here's a chance to show that special person some love! Sure you could send flowers, but why not give a gift that will change not one, but two lives?
Breaking news: Through February 14, every dollar you donate will be matched by our friends at Stella and Chewy's!
Celebrate your love and make a donation in honor of someone special in your life (two- or four-legged!). Your generous donation will go directly to support Senior for Senior adoption programs that give dogs like Willie a second chance at a happy ending.
YOUR DONATIONS AT WORK: WILLIE'S PERFECT MATCH
Eight-year-old Willie found himself at Lionel's Legacy, one of Grey Muzzle's amazing grantees, after his owner could no longer care for him. Willie arrived in need of some care, including dental work and blood tests. Thanks to a grant from The Grey Muzzle Organization, Willie got the care he needed and was soon ready for the search for his new forever home. Thankfully he didn't need to wait long to meet his perfect match—actually perfect matches!
Within a week of posting his picture to the Lionel's Legacy website, Willie got an adoption application from a couple who lived only a few miles down the road. The couple was in their 80's and received daily check-ins from family members who lived nearby. When Lionel's Legacy's adoption coordinator called to talk to the family, the first question the couple's daughter asked was, "Would you even consider my mom and dad to adopt Willie considering their age?" She went on to explain that her parents had always had pets and they'd been feeling sad and lost since their last dog died recently.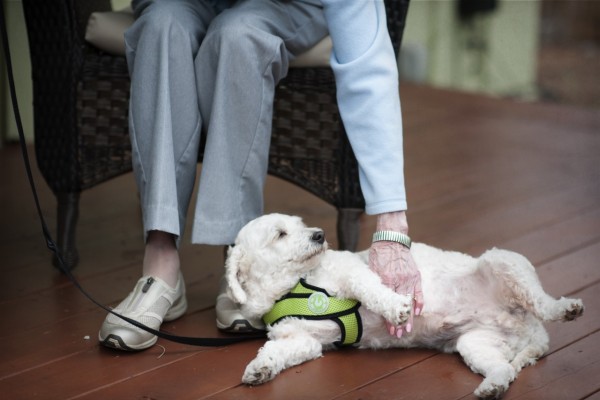 Being a senior rescue, Lionel's Legacy appreciates the mutual benefits companionship brings to people and dogs--no matter the age of either. The couple turned out to be a great fit for Willie, and he was soon on his way down the road to his brand new home. Today Willie gets to hear from his new dad the latest news about how the San Diego Chargers and Padres are doing. He loves helping his new mom in the garden where he's learning about all the different types of roses she plants.
Laura Oliver, founder of Lionel's Legacy sums it up, "We couldn't have asked for a happier ending and are so grateful to get the opportunity to play matchmaker. Thanks to our Always Home program funded by The Grey Muzzle Organization, we can make happy endings like these possible. It's a win-win for everyone!"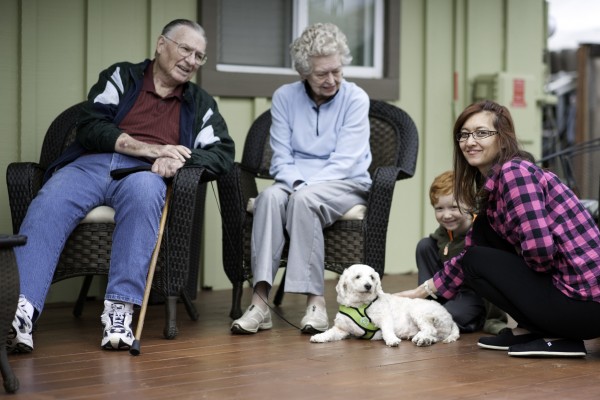 ABOUT GREY MUZZLE
If your heart has been touched by an old dog, you know how much they have to teach us about loyalty, compassion, and eternal love.
The old dogs that share our hearts and homes are part of our family. Sadly, many old dogs are not that fortunate. Senior dogs slow down. They develop medical issues. And many find themselves alone, afraid, and at-risk in shelters across the country.
The Grey Muzzle Organization creates happy endings to these heartbreaking stories--on a national scale. We improve the lives of at-risk senior dogs by providing grants and other resources to animal welfare organizations nationwide. Examples of the kinds of programs we support include in-home hospice care, Senior for Senior adoption programs, medical assistance and beds for old dogs at shelters, and education programs to encourage adoption and quality care of senior dogs. Your donation will help us expand our Senior for Senior adoption program, making more stories like Willie's possible.
---