TEN YEARS OF TRANSFORMATIONS!
$20,000
Our Goal
$0
Raised
(0%)
Please pick your very own square with a dollar amount to donate!
Please pick your very own square with a dollar amount to donate!

If you're in a hurry, just click the amount below you'd like to donate and we'll find you the best available square.
Show off your generosity with a great photo of your Peak Lab!
Campaign Details
TRANSFORMATIONS PART FOUR: Families
Our final transformation isn't dogs. It's the families who adopt from Peak Lab Rescue. Whether you are single, a couple, or a family with a bunch of kids already, adopting a Peak Lab will transform your life for the better.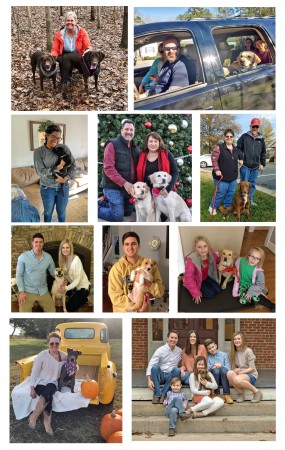 I wish I could make a collage containing 1,069 families. That's the number of dogs who have been adopted from Peak Lab Rescue year-to-date. None of this would be possible without your continued financial support. We are so, so grateful to be a part of this generous community.
If you haven't donated yet, please take a minute and do so. We have met our goal of $20,000 but every dollar raised will allow us to continue our valuable work in 2019.
Special thanks to everyone who has supported Peak Lab Rescue in 2018 by fostering, adopting, transporting, volunteering and donating. Your generosity with both your time and your treasure is greatly appreciated.
____________________________________________________________________________
Your financial support will help Peak Lab Rescue continue our valuable work of saving Labs and Lab Mixes from abuse, neglect, abandonment and high-kill shelters throughout North Carolina.


THANK YOU.
Peak Lab Rescue
About the Organization
PO Box 2184
Apex, NC 27502
UNITED STATES
EIN: 46-2915387
---