Please pick your very own square with a GivingTuesday paw heart
below

to donate!

If you're in a hurry, just click the amount below you'd like to donate and we'll find you the best available square.

Campaign Details
First, almost all of our in-person fundraising had been canceled. Then as COVID started winding down and people started getting back to a somewhat normal life many had no more need for the animals they adopted during the pandemic and started dumping them at shelters, who quickly went to capacity. To make matters worse, this new freedom for people lost us a bunch of fosters, so we've been at capacity, with more animals than ever in our care. We still have tried our best to help people place pets that we can't take in.
We're hurting, but our work can't end.
November 29th is GivingTuesday. It was created in 2012 as a simple idea: a day that encourages people to do good and help others. We're pleading for your help... We need to catch a break.

While we are so grateful to our community of supporters for helping us survive this long, we are continuing to struggle and unfortunately moving backwards, in terms of our expenses versus our donations. We still make sure our animals receive the same level of care even as vet bills increased dramatically.  We went to foster to adopt on animals that needed a little help getting well just so they could get better in a home instead of at the shelter.  We don't know how much longer we can sustain this trend, but we can't stop saving the fur kids. We aren't giving up - and with your support we feel encouraged to keep working hard on their behalf.

GivingTuesday falls on November 29th, four days after Black Friday and the day after Cyber Monday. We ask that if at all possible, you try to spend just a tiny bit less on those days, so that you can give a tiny bit to us. That's all we ask¦ If we can get enough people to give us a small amount, we can achieve our goal.

We also know that some of you are struggling too, so if you're not in the position to donate, you can also help by sharing our campaign with others you think might want to help or even better, start your own fundraising campaign by clicking the button above that says "Fundraise for this Campaign." It's so simple.

Somehow, we always find a way to make it through for the benefit of those precious souls. Sometimes it almost seems impossible and we look back and wonder how we got by. Then we quickly remember, our miracle is YOU!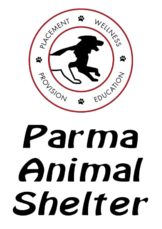 Parma Animal Shelter
About the Organization
Parma Animal Shelter is a 100% volunteer run organization. We are dedicated to taking loving care of cats and dogs and finding them the best home. Our animals are fixed, given appropriate medical care and vaccinations, microchipped and SPOILED by volunteers! We appreciate your support as we are self-funded.
6260 State Road
Parma, Ohio 44134
United States
EIN: 02-0693967
---