Campaign Details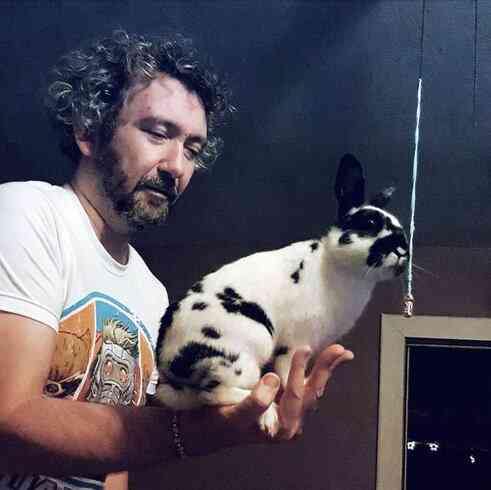 Cecily and Josh's sweet little bunny, Ozymandias, broke his foot!
Cecily and Joshua are artists living in a tiny rural town in Indiana. Their bunnies have influenced everything from the focus of their small fine art business to their dietary and lifestyle habits. Their first bunny, Miriel, was a show animal who was born with unusable markings and therefore unwanted, and she led them to become vegetarians and eventually go vegan. They spend their time making art, promoting animal rights, and doting on their rescue animals. Having had bunny family members for 15 years, this is thankfully the first major injury they have ever dealt with. 
Oz is an 8 year old Netherland Dwarf that has been part of their family for more than 7 years. He is a little bundle of muscle and speed, and his absolute favourite thing is climbing high. Piles of pillows, couches, shoulders, he loves them all. He is obsessed with bananas, vitamin cookies, bouncing around the levels of his house, taking naps, and kissing his brother Fizzgig. As he grows older, he has started to really enjoy being held and kissed by his humans.
On Monday Cecily walked in to the room and accidentally startled Oz, and he tore around frightened and caught his foot on something unknown. His heel bone and an attached foot bone broke, puncturing the skin in the process. He has a splint on and may need surgery, a cast, and possibly even amputation. Because his normal rabbit-trained vet was not at work the day it happened, he was examined by the ONLY vet in town that would even touch him which gives them doubts about the initial splinting. Oz has been referred to an Avian and Exotics clinic in Indianapolis where they specialize in the treatment of rabbits, and where he will be guaranteed to get the best care to make sure he doesn't end up with mobility pain for the rest of his life. No bunny deserves to hop in pain, and because climbing brings so much joy to his life it is crucial that he be given the option to keep his foot if they can by getting the Orthopedic specialists involved.
The initial vet bills for just the emergency sutures, x-rays and splinting are already passed $400 and he cannot sit long in a splint regardless of how well it has been made. 
If amputation is recommended because of the nature of the break, the procedure can easily exceed $3-4k. Payments will be required at the time of service, and Josh and Cec are determined to do whatever the experts recommend for Oz to give him the highest quality of life. Since two of the Allen bunnies lived to 13 years of age and Oz has always been extremely healthy, he could easily have many years left. They want to be sure none of it is spent in pain from this injury.
As more information is made available, this campaign will be updated.

Please help out this bunny-loving family if you can! Every dollar helps.
40% of proceeds from purchases made on their website will also help in lieu if a monetary donation. www.starsprinklesupercollider.com/shop
Updates
Update

OZ IS HOME!


We took this as soon as we got home. His shaved arm is from his IV line. We will spare you the image of his suture for today, but he is officially a 3-legged buns and is handling it better than expected considering what he's been through since last Monday. They removed the leg at the knee, which on bunnies is basically like less than 2 inches from his hip so it looks like they took the whole thing, really. When his shaved spot grows back, you won't be able to see the scar at all. We took reference photos to compare over the next few days so we know if things start to look wrong which is why he's being forced to model in this photo. Tomorrow, I'll post a photo on Instagram with a warning in front in case you aren't squeamish about wounds and stitches and actually want to see what he went through.

He was an absolute CHAMPION and won over the hearts of basically everyone there, and his vet today, Dr. Lennox even thanked us for letting her take care of Oz. I love it when other people see how rad our babes are.

Hopefully this is the last you will hear from us here, but if complications arise we will likely continue to post for those of you still listening. He's partially your baby now too!

We would like to request the snail mail mailing addresses from you all. <3
If you don't mind us having them, drop me a message in instagram or email me winglessfae@gmail.com. There's just one more thing we want to do once things calm down a bit more.

We will forever be grateful we had you all to get us through this. We are officially moving back to Bloomington *very* soon, so you are all welcome to visit Oz and Fizzgig for snuggles at the new place at any time you want!

See more pictures on instagram tomorrow... but for now, we're gonna leave you guys alone. Just know though that there are some truly incredible things in this world, and I count every single one of you among them.

Love,

Cec, Josh, & Oz (the slightly-smaller-now dwarf buns)

Update

Update!

Oz had his splint replaced yesterday. Since it was put on by a general vet, it was not really done well so it had begun slipping off and he had started to chew the bandages and yank on the end. Not good for broken bones to be yanked on! He behaved like a champ though which allowed Dr G. (our real vet) to take an additional digital x-ray so she could see if things had moved since Monday. She was pleased with how it looked so she's hopeful that Avian & Exotic can successfully pin things. She was able to replace the bandage without anesthesia which saved us a significant amount, and because the x-ray wasn't medically necessary but she took it anyway, she didn't charge us for it either. That was a great bit of news! He now seems more comfortable when moving about is necessary, and it's a pretty purple bandage this time. Joshua may draw him a picture on his foot for good luck tomorrow.

I'm posting the next bit here just to keep things updated, but we expect absolutely nothing more from any of you. We feel that you're entitled to all the info though, so we want to make it accessible if you want to read it, and we won't bother you much longer! We will be sharing the stuff below on social media shortly.

***********************

A friend suggested we make an Amazon wishlist for a couple of supplies that we are unable to purchase yet in case somebody has an Amazon card/gift card/etc and might be more appealing than a cash donation. These supplies are also included in the estimate for this surgery so getting any of these will lower the $ amount we will ultimately need by about $100. That also means even $1 amazon gift cards will be helpful for us too. We will appreciate every single cent we can put towards Oz.

The link for his wishlist is http://a.co/a3NNSBx and can be found by searching for "Oz Allen" or winglessfae@gmail.com.

***********************


The outpouring of support we have gotten from our friends has been utterly overwhelming. I think I've cried from the kindness just as many times as I have from stress this last week, so thank you all for keeping me balanced! :D Be thankful I can't hug you all right now, cause I probably wouldn't be able to let go.


Oz is currently napping, but it is obvious that he and his brother Fizgig are affected by our stress levels. Because of your help things have slowly been less terrifying over the last few days and they both seem less jittery. So I guarantee you the buns echo our appreciation.

Tomorrow is the big day, 8am we leave him in the hands of the pros and then I drive Joshua to work where he will sit until they call and say he's ready to go. EEEEEEEEEEEEEEEEEEP. Hold our sweet boy in your hearts, and smooch all your furbabies if you've got them. We will let you all know how things turned out when our babe is home.

<3

Cec (and Josh)

Update

Thank you everyone for all the kindness you've shown us in the past few days! We just discovered this feature so we will use it to keep you in the loop from now on. You can also get updates on our instagram feeds. Cecily's personal instagram page @winglessfae is private but you are welcome to add her. Joshua's feed @facelesscow is public, and he will try to update as well.

Ozymandias goes in today to have an actual rabbit-savy vet review and replace his splint and make sure his sutures look healthy as well. Then on Monday morning he goes to the Avian & Exotic Vet Clinic in Indy for the orthopedic care he needs. When he comes home, he will either have a leg full of metal, or no leg at all. There are big risks with both proceedures, but bunnies acclimate quickly and he seems to be channeling his sister Kiri in the gusto department, proving to be tough as nails right now. It is extremely comforting.

We were given some updated estimate information on his options and have edited our goal to reflect that, but we are still far from hitting the low end of the estimates. Sharing our story everywhere you can today and tomorrow with friends who can empathize with our struggle is the best thing you can do for us now as Monday quickly approaches. Feel free to screenshot or download anything we have posted online.

Oz means everything to us, but so do you guys. The beauty of this life comes in the creatures we share it with and the love we give eachother, and we are so lucky to have such incredible humans in our lives.

When this is all over, we plan to pay forward all of your kindness as soon as possible.

We will update again soon!

Cec & Josh