Support SNARR for Giving Tuesday!
$60,000
Our Goal
$0
Raised
(0%)
Please pick your very own square with a heart below to donate!
Please pick your very own square with a heart
below

to donate!

If you're in a hurry, just enter the amount below you'd like to donate and we'll find you the best available square.
We're one big team on a mission to fill this GivingGrid!
Fundraise for this Campaign
Campaign Details
We need YOUR help to make our BIG wishes come true!!!
OUR MISSION IS SIMPLY "Giving Hope To The Hopeless"
SNARR Northeast started 10 years ago with one single dog, named Frankie, rescued from New York City Animal Control. Since then, we have grown to rescue 1000+ animals annually. SNARR focuses on those animals least likely to receive a second chance, due to extreme medical needs.
We purchased our shelter in February 2019 and have since brought 3,559 animals through our doors. We rescued an unprecedented amount during the height of COVID and our kennels have seen a lot of wear and tear. Our building was never designed for this amount of action and now its time for a much needed overhaul! We are working on some significant capitol improvements and need YOUR help to make them happen!!!
Our dogs deserve better and we want to give it to them!
A FEW IMPORTANT THINGS WE ARE RAISING MONEY FOR:
Our BIGGEST project is expanding our septic system, which is the most important!!! It is currently located in the middle of our large play yard and our septic fields are too small and often flood. Without redoing the septic, we lose that exercise space which is vital to the dogs' happiness and well-being. Total Cost : $45,000
New Doors for all of our kennels!!! We are upgrading to double insulated, metal guillotine doors for our kennels. The purchase and installation is $5000.
New Flooring!!! Our medical clinic is where we do all of our new intakes and where the puppies are kept. It needs to be sanitized daily. New vinyl flooring will be less porous and will allow for easier cleaning and sanitary conditions Total Cost $6000
We strive to make this a happy and safe place for all our dogs for many years to come!
MEET Lucky!!! Our most recent medically needy dog that SNARR stepped up for. Lucky has a HUGE tumor growing off the side of his head that went untreated for years and years. We do not know how Lucky is still such a happy and sweet boy with the neglect that he has suffered. He is grateful and loving and deserves the best specialized care. Lucky has a heart condition and will need to see a cardiologist, he will be getting surgery and most likely radiation, chemo etc ( we only pursue these options when dogs have a great chance at survival and tolerate the treatment well!) Lucky will require very expensive care, but we believe he deserves all of it and more!!!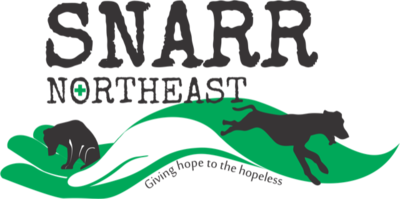 SNARR Northeast
About the Organization
Special Needs Animal Rescue And Rehabilitation (SNARR Northeast) is NY based 501(c)(3) animal rescue founded in 2011. Dedicated to saving dogs most in need, SNARR saves dogs who would otherwise not survive, and house them in foster care or at our facility. SNARR commits to doing everything in our power to help them survive and thrive. We receive no government funding, and rely entirely on private donations to support our efforts.
PO Box 307
White Plains, New York 10602
UNITED STATES
EIN: 47-3002801
---