Through Larry's Eyes
$800
Urgently Needed
$0
Raised
(0%)
Campaign Details
A friend of Bobbi & the Strays noticed a new mother cat and its litter had joined the colony he cared for. After a few visits, he noticed that one of the little ones seemed to be having a hard time eating, and it would just walk away, though still meowing in hunger. Going in to take a closer look, to his horror, the cutest little black furball of a baby, had blood and puss covering half of his face! No wonder this poor thing was crying. After a few failed attempts, the beautiful boy that we now call Larry, was captured and brought into our facility.
Swollen and oozing blood, it looked as if the whole left side of Larry's face was destroyed. It was heartbreaking and scary to see something so small and precious, in such a terrible condition, and clearly in so much pain.
A donation for this sweet boy's care would mean the world!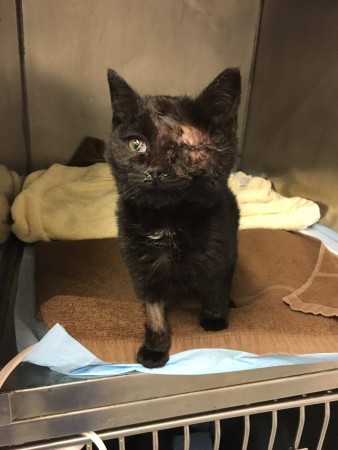 Larry was rushed to the vet and upon cleaning and examination they saw that all of the damage was on Larry's eye. It had gotten infected, and being so young, Larry's immune system could not fight it off. Unfortunately, the eye had to be removed.
Despite all that he's been through, Larry remains the sweetest, most affectionate kitten, who purrs up a storm even if you just look at him. Everyone who meets him can't help but fall in love and we just want to see him thrive!
If you could please find it in your heart to help us with Larry's still rising medical bills, it would be greatly appreciated. Your donations will help us to continue providing him with the best care and the rehabilitation that it will take to get him all healed and then into the home he deserves.
You can also help Larry by sharing his campaign, or fundraising for this campaign by clicking on the Fundraising tab.
Bobbi and the Strays
About the Organization
80-36 Cooper Ave., Glendale, NY, 11385
2 Rider Pl., Long Island, NY, 11520, NY
UNITED STATES
EIN: 11-3444285
---
Updates
Update

We can't thank you enough for your help and support! It's wonderful people like you that we cherish so much! The overwhelming love that poured in for Larry truly blew us away. We would not be able to do what we do here for our precious fur babies, if not for your generous hearts.


How exciting that we EXCEEDED our donation goal for Larry's medical bills! Please know that the additional funds will go towards another animal's medical expenses.