Odin's 20th Birthday Bash
Wildlife Medical Clinic at Illinois
Please pick your very own square with a dollar amount to donate!
Please pick your very own square with a dollar amount to donate!

If you're in a hurry, just click the amount below you'd like to donate and we'll find you the best available square.
Whooo will help Odin celebrate and save more wild friends?
Thank You Gifts
Updates
Update

THANK YOU, WILDLIFE LOVERS!

Odin and everyone at the Wildlife Medical Clinic is so grateful for the outpouring of gifts in celebration of our dear red-tailed ambassador! We reached our goal of $2,000! And the gifts continue to come in.

We hope you will continue to spread the word about our program and our celebration of Odin. We are raising money for a new flight cage for our residents, and so much more as we transition to a new permanent home within the College of Veterinary Medicine.

Your gifts make a real difference in the lives of our patients and our student volunteers.

Thank you, thank you!

Update

THANK YOU!! Because of you, Odin's 20th Birthday Bash has raised more than $1,500 to help ill and injured wildlife--AND we have received an ADDITIONAL $1,000 from a generous donor who offered to match the first $1,000 raised.

We are SO CLOSE to reaching our Birthday Bash goal of $2,000!

When we do, there is another wildlife supporter who has promised to match the second $1,000 raised through this effort--bringing the total raised to FOUR THOUSAND DOLLARS!

PLEASE help us complete our goal by sharing the links to Odin's Birthday Bash with your friends and family on social media.

We are almost to our goal, because of people like you who care about all wild creatures. You are the best!
Campaign Details
GREAT NEWS! When our campaign reached $1,000, a generous donor matched that amount.
NOW another friend of wildlife has offered to donate $1,000 if we can raise $1,000 more and reach our $2,000 goal. That means bringing in $4,000 to honor Odin and continue the live-saving work of the Wildlife Medical Clinic.
PLEASE MAKE A GIFT and share this campaign with your friends and family who care about wildlife.
Your gift in honor of Odin's 20th birthday will allow our mission of care to continue! Last year nearly 2,000 ill or injured wild animals of all kinds--more than 110 different species--were seen at our clinic.
Please click through the photos to see our handsome birthday boy in various poses and activities. You will also see just a small fraction of the patients we have cared for. Can you find the opossum babies? the fawn? the bald eagle? the river otter? the bobcat? Can you tell the fox kit from the coyote pup?
Won't you please make a gift and upload your own photo to our grid so we can enjoy the diversity of wildlife lovers who choose to support our mission? Then share the news of your gift and our campaign for Odin with your friends. We want to fill our grid to keep the care coming for all our animal patients.
The Wildlife Medical Clinic has been around for about twice as long as Odin has. We turn 40 next year. Each year more animals are saved. Their care and eventual return to the wild is our goal. We also provide team-building and skill-building opportunities for veterinary students, and work to educate the public about the habits and habitats of native wild animals.
Odin's Birthday Wish List
$10 buys Odin two dinners in the privacy of his own flight cage
$25 covers the cost of bandaging material for up to 10 raptors with broken wings
$50 allows us to take X-rays of fawns, bunnies, and coyotes to find out what's wrong inside
$100 gets us one-tenth of a panel in the new flight cage we are building for Odin and our other resident raptors: River the bald eagle, Derby the Eastern screech owl, and Thistle the American Kestrel
Can you do MORE?
A donation of $500 or more will allow us to perform diagnostic tests and surgery to save the life of a bobcat hit by a car. PLUS it will earn a thank-you gift from us! For a $500 gift, we will send you an original painting personally done by Odin, the birthday boy!
Donors of $1000 or more will not only get an Odin original, but will also have the opportunity to meet Odin in person at the Wildlife Medical Clinic in Urbana, Illinois.
Are you a high flier? Donate $3,000 or more and you will get a chance to "fly like a hawk" in a privately owned airplane with a licensed pilot, in addition to the painting and personal visit with Odin.
To make gifts at the higher thank-you levels, please visit our online giving site so that your donation will receive a gift credit from the University of Illinois Foundation.
The Wildlife Medical Clinic is a non-profit, volunteer-run organization affiliated with the University of Illinois at Urbana-Champaign.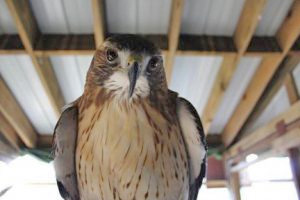 Odin's Story
Odin was found as an extremely weak, emaciated, and dehydrated juvenile in Fairbury, Ill., and was brought to the Wildlife Medical Clinic on August 15, 1997. He was given an emergency administration of fluids via a bone catheter, which is both the most efficient and most reliable way to give emergency fluids in critical animals. This emergency administration saved Odin's life. After a few months, his health had improved drastically and his musculature was filling out quite nicely. Unfortunately, he developed a bone infection, which left him with arthritis that prevented the full extension of his right wing. Without full extension, he would not have been able to survive in the wild. The Wildlife Medical Clinic obtained a permit to keep him as a permanent resident, and over the past 20 years he has served as an amazing public ambassador for his species in schools and at events across central Illinois.
About the organization
Wildlife Medical Clinic at Illinois
1008 Hazelwood Drive
Urbana, Illinois 61802
UNITED STATES
---