Coats of Many Colors!
$10,000
Our Goal
$0
Raised
(0%)
The Fundraiser:

The Cats At Longstreet
Campaign Details
This year's end of year campaign is titled "Coats of Many Colors," after the Dolly Parton movie called "Coat of Many Colors." The movie (and the song) tells a story of little Dolly who grew up as a poor child in rural Tennessee where they didn't have much but they did have family. Her mother was given a bunch of scrap fabrics in various colors and patterns which she sewed into a patchwork jacket for Miss Dolly. Though some of the kids at school were cruel about the coat being made of scraps, Dolly eventually learned that the coat was a special one and wore it proudly.
Like the fabrics used in the Dolly Parton's Coat of Many Colors, kitties come in a variety of patterns and colors. No one is superior to the other, and all of them together form a bundle of love.
We want to fill the giving grid with various Coats of Cats, because each and every one of them is special! Donate and add a photo of your cat(s) to the grid.
Will you help us fill the grid?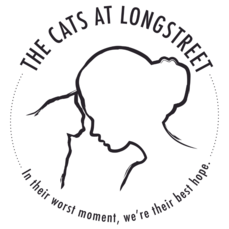 The Cats At Longstreet
About the Organization
PO Box 1633
Sterling, VA 20167
UNITED STATES
EIN: 82-1122089
---