EyeSeeMe in Books
A Red Circle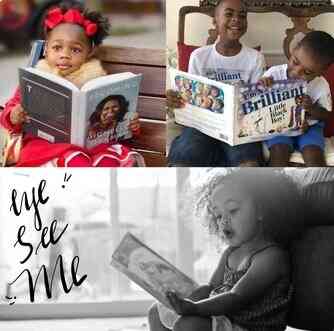 Campaign Details
The EyeSeeMee in Books campaign is selling $13 book vouchers that have been promised to each of the students of Barack Obama Elementary School in Normandy School District in St. Louis, Missouri.
We are hoping you will help support our goal to sell 396 book vouchers by February 10, 2020. Each book voucher you purchase will be given to one Barack Obama student. There is no limit on the amount of book vouchers you can purchase for students.
Barack Obama students will get to use their book vouchers during the EyeSeeMe in Books inclusive book fair that will take place in their school during Black History Month in February of 2020. Each student will have the opportunity to shop for a book that respectfully mirrors themselves, their cultures, and their families.
EyeSeeMe is a local bookstore in St. Louis that was created so that African American children can benefit from exposure to literature that celebrates and promotes their positive identities, includes African American images and history, and advocates for academic excellence.
Maryville Education Club and A Red Circle Non-Profit have partnered with EyeSeeMe book store for this effort. Our most significant goal, in pursuit of minimizing the reading achievement gap, is to ensure children of color have many more opportunities to make connections in literature- elevating their overall reading motivation and engagement- that fosters a life-long love of reading.
A Red Circle
About the Organization
**Maryville Education Club focuses on the needs of all children with the primary goal of engaging in community and school-based service efforts. **EyeSeeMe is the only children's bookstore devoted exclusively to promoting positive African American Images and history. **A Red Circle is a non-profit organization located in Wellston, Missouri and was founded to address racial injustice and inequality in the North St. Louis County region.

UNITED STATES
---