Campaign Details
February is the month of love + Spay/Neuter Awareness Month. Here's the purrfect way to celebrate both!
When you buy a paw print heart on our Wall of Love you can show your Valentine(s) how much you adore them (send them an e-heart direct!). You'll also be showing how much you love feral cats (each $50 donation sponsors a spay). A special Valentine couple, Lisa + Shawn Mangum, will match all donations on the Wall of Love up to $5,000! Your heartfelt gift will go twice as far!
* See below for hints to fill out your hearts. Have fun sharing the love and helping the cats!
"We really appreciate the service you provided. This small colony was on its way to rapid growth and the ability to get these cats sterilized was key."
~David, caregiver in Vancouver, WA, who brought 3 females and 1 male to be spayed/neutered at FCCO.
Our feral and stray cat services not only include the spay/neuter surgery, but also vaccines; treatment for fleas, ear mites and tapeworms; pain relief medication; and an ear-tip for identification. It's a one-time package that can lead to a lifetime of health for a cat!
FCCO's services are so important to the cats, and help the caregivers who are looking out for them, too. We thank you for your support and love for the cats!
"So helpful for the community. I can't say enough good things about how wonderful this group was for prevention of adding to the overpopulation! Thank you so much to all the staff and the donors!"
~AB, caregiver in Marion County, OR, who brought 6 females and 7 males to be spayed/neutered at FCCO.
__________________________________________________________________________
HINTS FOR FILLING OUT YOUR HEART:
Who is your heart from? 

This is the name that shows on the front of the heart when people first look at the grid
If you choose "Hide my name" it will show "Someone Who Cares" on the front

The text you enter in the larger box will show when your heart is clicked

Text will be centered. You may enter a space between lines.

After filling out your heart, choose continue. You will still be able to edit your text.
Choose the checkbox for "In honor or memory..."

A dropdown menu will offer multiple options
This text and the name you enter will appear in the top right corner of your heart

Use the orange "Preview my Heart" button to see your heart


This is what your heart looks like after being clicked on
Heart text can not be edited after submitting

Send an eCard

The recipient will receive an email with the subject "____ sent you an eCard"
It will say "____ made a donation to Feral Cat Coalition of Oregon"
It will show the inside of your heart (as was shown in the preview)
Have fun sharing the love and helping the cats!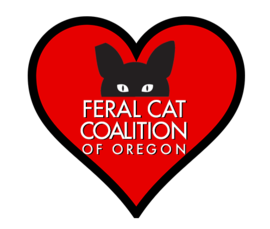 Feral Cat Coalition of Oregon (FCCO)
About the Organization
The Feral Cat Coalition of Oregon (FCCO) is a spay/neuter program for cats. Our services are donation-based for feral, stray, and barn cats, including vaccines. For more than 25 years FCCO has provided high-quality spay/neuter services to the community and has helped more than 120,000 cats. The kindness and generosity of caregivers and donors allow us to continue helping community cats in need. Thank you!
4522 S Water Ave
Portland, Oregon 97239
United States
EIN: 93-1168181
---