Campaign Details
You are cordially NOT invited to attend the Winter Ball, the NON- Event of the Season!
Instead, Donate What You Save To The Homeless Animals!
Savings: New Outfit $100, Event Ticket $75, Pet/Child Sitter $50, Gas & Parking $40
Since there is no expense for decorations, food, drinks or entertainment, your entire TAX -DEDUCTIBLE contribution will be used for food, supplies and medical expenses for the local homeless animals we rescue.
This year has put a strain on the world as we know it! While our lives changed, the one constant for us has been our rescue life. The fur-babies still need our help to provide them with a chance for a better life. S.T.A.R.T. will not let down the four-legged community.  It has been difficult to survive financially but you are truly making a difference!
Please share with your friends and family and let them know we are making a difference in the lives of our rescued animals!
Thank you for your support.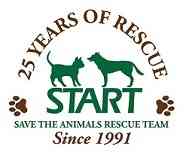 START, Save the Animals Rescue Team
About the Organization
S.T.A.R.T. relies solely upon the funds raised through Fundraising Events, private contributions, members' financial support and grants to carry out our rescue efforts. Because S.T.A.R.T. is a no-kill organization without a shelter facility, all our rescued animals are fostered by families until they are adopted. S.T.A.R.T. works actively to alleviate the local pet overpopulation crisis through our ongoing (TNR) Trap, Neuter, Return program.
PO Box1098
Little Falls, NJ 07424-8098
USA
EIN: 521765363000
---