MWBTR Alumni Wall
MIDWEST BOSTON TERRIER RESCUE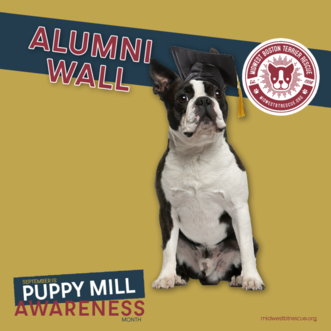 Fundraise for this Campaign
Campaign Details
Here is where we celebrate our Midwest Boston Terrier Rescue pups, both living and those waiting for us over the Rainbow Bridge. This is also the place to make donations in memory of an MWBTR supporter or friend who we've lost or has a reason to celebrate.
Simply select an open square, make a donation in any amount. You can upload a photo or not and you can write a message or not... It's completely up to you.
Then take a few moments to browse all the other photos, stories and memories of MWBTR.
MIDWEST BOSTON TERRIER RESCUE
About the Organization
Midwest Boston Terrier Rescue is a 501c3, Non-Profit Organization. We are funded entirely by donations and run by the hearts of our Volunteers who are dedicated to rescuing Boston Terriers from shelters and individuals and finding them permanent homes. We have no shelter, our rescued Bostons are fostered in our homes until they find their new loving, responsible, lifelong homes.
PO Box 297
Kent City, MI 49330
United States
EIN: 22-3897468
---