Steal a Heart, Save a Life!
The Grey Muzzle Organization
Updates
Update

You are truly amazing! Because of your generosity, we raised an incredible $13,000 to help senior dogs who need a second chance. We couldn't have done it without you! I have been so touched by your gifts, your dedications, and all those sweet, smiling faces. Thank you for having a heart for senior dogs and sharing that love!

My best,

Lisa Lunghofer
Campaign Details
Every senior dog deserves to love and be loved. Sadly, many older dogs don't get that chance. You can change that! Your gift today will give senior dogs a second chance at life and love. Plus, every $ you donate will be matched up to $10,000 by Rod and Button Cook, Dr. Steven Wolchinsky, and Dr. Mary Gardner, co-founder of Lap of Love Veterinary Hospice.
Will you help us help more dogs like Gloria?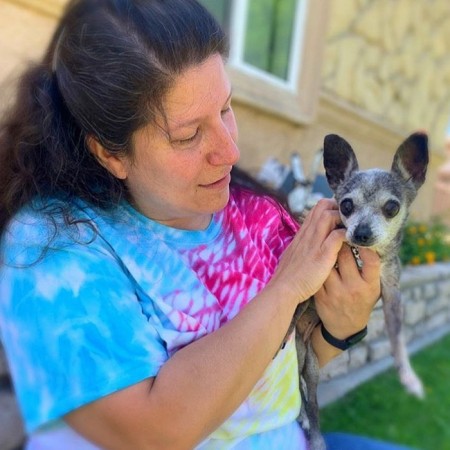 Gloria stole Staycee's heart
Gloria's journey to freedom, love and a new life began on Independence Day. That's when fireworks cause many dogs to bolt and shelters to be overwhelmed with lost pets. It's also the worst time of year for senior dogs like Gloria, who have been at the shelter the longest and are at the highest risk for euthanasia.
Fortunately, the 16-year-old Chihuahua was among 82 dogs pulled from Southern California shelters last July as part of Live Love Animal Rescue's #FosterThe4th initiative. Thanks to a Grey Muzzle grant that you made possible, Live Love's team knew they had the resources to provide Gloria and other senior dogs they rescued with desperately needed veterinary care.
Sweet, tiny Gloria quickly became a favorite with all the volunteers, who showered her with attention. Everyone fell in love with this adorable little girl and knew she would make a perfect companion for the right person.
A few weeks after Gloria was rescued, the local shelter director, Staycee, reached out to Live Love and said, "I haven't been able to get Gloria out of my mind!"
Gloria stole Staycee's heart, but Staycee said she could keep it. And now, they live happily ever after together. Your support helps senior dogs find their perfect match. Please make a gift today!
The Grey Muzzle Organization
About the Organization
Grey Muzzle improves the lives of at-risk senior dogs by providing funding and resources to animal shelters, rescues, sanctuaries, and other nonprofits nationwide. We are not a shelter or rescue group. Rather, Grey Muzzle funds programs such as hospice care, senior dog adoption, medical screening, and dental care to help old dogs at animal welfare organizations across the country. Our vision is a world where no old dog dies alone and afraid.
14460 Falls of Neuse Rd. Suite 149-269
Raleigh, NC 27614
United States
EIN: 26-1965495
---