♥️ Komputers For Kids 🎫
$36,000
Our Goal
$0
Raised
(0%)
Please pick your very own square with a heart below to donate!
Please pick your very own square with a heart
below

to donate!

If you're in a hurry, just click the amount below you'd like to donate and we'll find you the best available square.
We love our friends and family and their friends for helping!
Fundraise for this Campaign
Campaign Details
ADDITIONAL IN-KIND DONATIONS NEEDED
Please contact us directly if you have any of these items, New or Used
School Bus and/or van

Playground equipment

Building supplies and equipment

Computers and AV equipment

Classroom Furniture (chairs, desks)

Kitchen equipment

Library shelves

Books

Sporting equipment

Solar Panels

Projector, overhead projector, whiteboards, chalkboards

Lamps, fans
A gift of $9,000 will provide a Kio Kit for a private a school in Ghana.
Your gift of $25 will provide one student with all the resources they need to thrive academically.
Your gift of $50 will provide daily breakfast, lunch, and snacks for 10 children.
Your gift of $100 will provide a uniform, shoes, and books for 2 deserving students.
Your gift of $250 will provide the monthly salaries for one of our 6 teachers.
Your gift of $1000 will provide the monthly salaries of our six teachers.
Your gift of $2,500 will provide 4 desks, 5 chairs, and 4 used computers for our new library.
Your gift of $5,000 will provide the classroom materials and equipment for one of our classrooms for the year.
Your gift of greater than $10,000 can support our capital campaign to build a security fence and new school facility.
Do your part with a caring heart.
CONSIDER MAKING A MONTHLY DONATION
VOLUNTEERS ARE ALWAYS WELCOME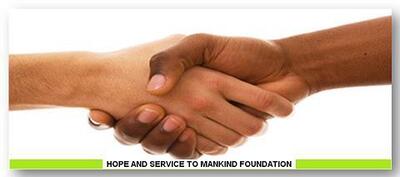 FLOATING CRYSTALS ACADEMY
About the Organization
The Hope And Service To Mankind Foundation was founded in 2011. We are committed to serving mankind by providing the basic amenities of life to the helpless and needy people of our community. We also encourage children, people with disabilities, adults, and youth through education and employment. We started the Happy Children's Project and Floating Crystals Academy in 2016 to serve poor and needy children in the community. ​
P. O. Box 28 Monkey Forest, DTD Klagon-Lashibi, Community-19, Sakumono-Ghana.563
Ashaiman, Ghana, West Africa 23000
Ghana, West Africa
EIN: 84-4972701
---