Please pick your very own square with a heart
below

to donate!

If you're in a hurry, just click the amount below you'd like to donate and we'll find you the best available square.
Campaign Details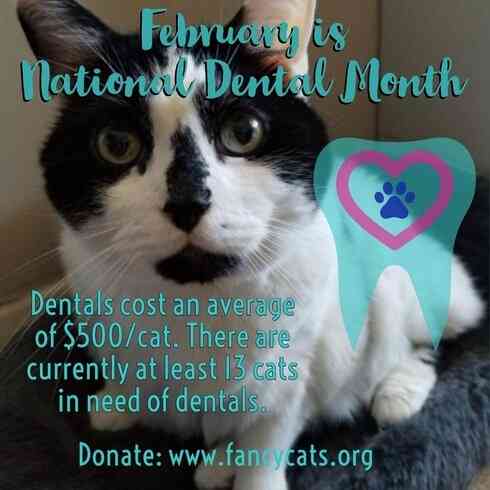 February is National Dental Month and we are asking that you use your heart on this Valentines Day to enable us to provide dentals for cats whose mouths are otherwise suffering. We have 13 cats who are waiting patiently for dentals, and 4 others who are waiting to see a vet to determine if a dental is necessary. Each dental will cost between $400-$1000, depending on how many teeth need to be pulled.
Cats with untreated dental disease can be in severe amounts of pain. They often lose weight, due to eating less. Although dentals are expensive, they are very important to the overall health of a cat. Note the posted pics of dental disease before and after a dental. Can you help all of our cats in need have teeth which look like the after picture?
Check out our gallery of cats who are in need of dentals. After you donate, please share with family and friends and ask them to donate!
About the organization
Fancy Cats & Dogs Rescue Team
P.O. Box 182
Herndon, VA 20172
UNITED STATES
EIN: 54-1859914
---
Updates
Update

We are very grateful for your support of our seniors and their dental needs! We are excited to report that because of YOU, we are at 25% of our goal! If you haven't already, can you share this fundraiser to your social media accounts and to your friends via email? The links to share the fundraiser are located next to "Campaign Details" on the main fundraiser page. Thank you for your support!