Snickers Needs Us!
Partnership for Animal Welfare (PAW)
Campaign Details
What is IVDD?
Introduction to Intervertebral Disk Disease (IVDD)
IVDD in dogs is a common cause of back pain, rear limb paralysis, and inability to walk or feel the back legs. Certain breeds including the Dachshund, Shih Tzu, Pekingese and Beagle are commonly affected. IVDD can affect any part of the canine spine.
Normal Canine Spine, Hill's Pet Nutrition, Inc.
Canine Spine with IVDD. Hill's Pet Nutrition, Inc.
If you would like more information on IVDD, please visit this website: https://www.sevneurology.com/diseases/intervertebral-disk-disease-ivdd-dogs/
Please help Snickers make a full recovery! Donate and share with friends and family!
Here is poor Snickers post-surgery: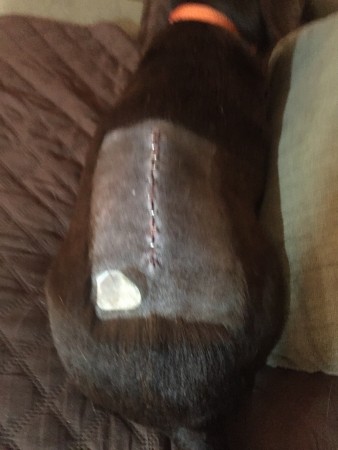 About the organization
Partnership for Animal Welfare (PAW)
UNITED STATES
---
Updates
Update

Dear Donor:

Thank you again for your generous donation to PAW for Snickers' medical bills. We are so appreciative of your contribution. Currently, Snickers is improving every day. His back left leg still drags some when he walks, but he is slowly regaining use of it. He goes back to see the doctor in a couple weeks and then will start more intense therapy, but now he is still not allowed to do stairs and needs to be carried outside to go to the bathroom. Poor boy!

Now that you have donated, please share to help us reach our goal! The next phase of Snickers' treatment will be expensive and we can really use all the help we can get.

Thank you so much for your donation and please please SHARE with friends and family. Thank you!!