Critical Airlift to Save 76 Dogs
$70,000
Urgently Needed
$0
Raised
(0%)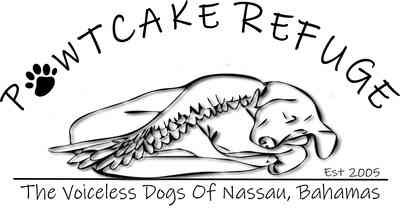 Campaign Details
We desperately need your help raising $70,000 to airlift 76 dogs!
Most of these sweet dogs have severe health problems that require expert medical treatment they can't get in the Bahamas. They will either die or live the rest of their days suffering if left on the island. Not under our watch! We booked flights to the States for April 29 and April 30. These dogs deserve the best medical care and a chance to find a new life in loving homes. If we don't reach our goal in time, we'll need to tap into our emergency savings fund. We're hoping it won't come to that.
First, we want to say thank you for all of your generous donations and continued support. We know we've asked you to help a lot recently and understand that times are hard for everyone. You may remember we had to cancel one of our last airlifts because our ground transporter was in a vehicle accident. Those dogs went back to stay with Chella but rest assured, they will be going on this flight! Initially, we hoped to avoid asking for help and use funds raised for the canceled flight. It turns out we are sending more dogs than anticipated, and most of these precious souls have severe health problems. Will you please help us again? Any amount you can give will benefit these dogs.
Money raised pays for buying and shipping the crates on a cargo ship to the island, health certificates, permits, rabies vaccinations, all medical fees in the U.S., ground transportation, and of course, airfare. The plane is spacious enough for each dog to feel safe, and it is fully air-conditioned for them.
__________________________________________________________________________________________________________________________________
You may recognize 3 dogs out of the 76 going on the airlift:
ANATOLI – Chella found this innocent boy living in a school parking lot, where he was taunted and called the "Chupacabra." Anatoli was terrified of people, starving, and full of open wounds. Someone used him as target practice, and several B.B. pellets remain dispersed throughout his poor frail body. Anatoli's head tilt is involuntary and is a result of neurological problems. We don't know the cause yet. Was it blunt force trauma? Is there lead in the pellets? Is a nerve compressed? He has an appointment with a specialist in the U.S. to discover the root and severity of his condition and to find the best course of treatment.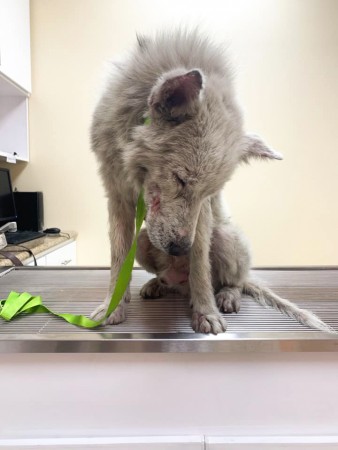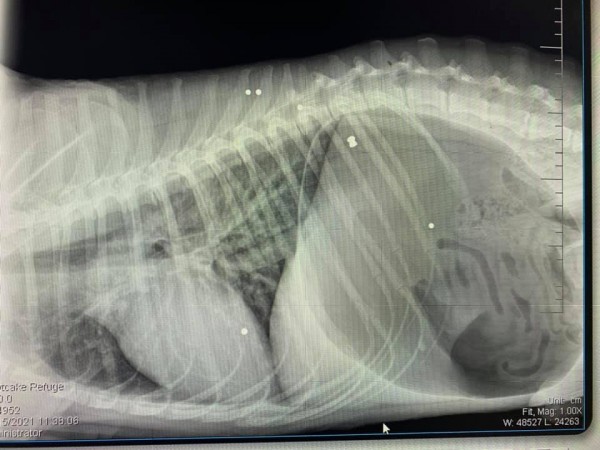 Anatoli started to blossom in just two days with us, and his broken eyes began to shine. He is happy, confident and has made friends with all of the dogs at the refuge.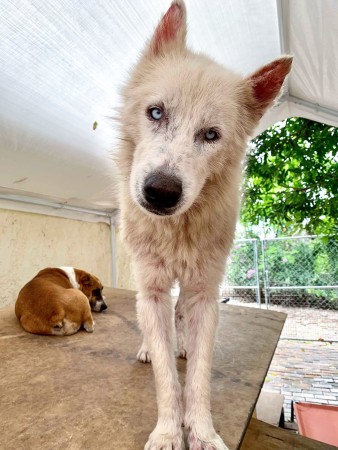 __________________________________________________________________________________________________________________________________
TIKKA – Chella received a message about a dog covered in ticks. Tikka was barely alive. No vet clinic would let her in because they feared tick infestation. Tikka was able to have her blood drawn in the vet parking lot. Chella spent nearly FIVE hours in the tub picking HUNDREDS of ticks off this darling girl. Her belly was full of feces and rocks, and she needed a blood transfusion that day because she was 100% anemic. The next day, she woke up swollen from head to toe, but it was the weekend, so all we did was pray.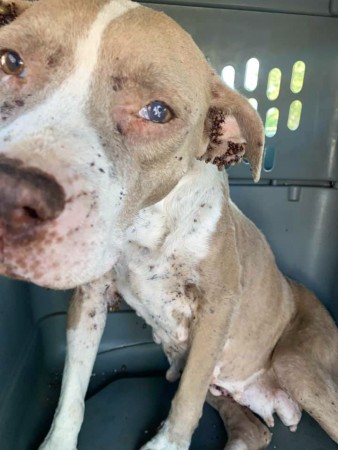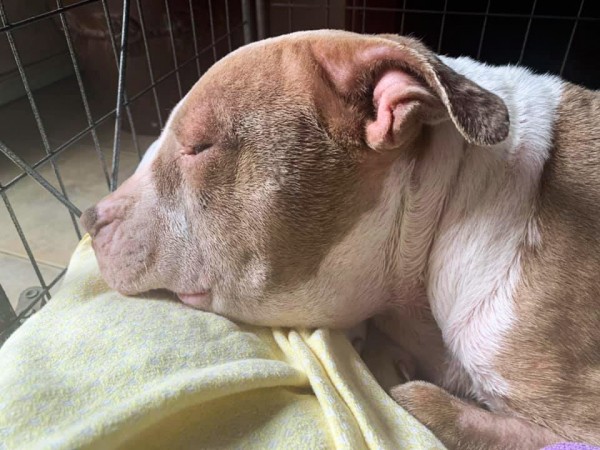 Now Tikka is coming out of her shell, showing her happy, silly self and becoming healthier each day. This precious girl deserves a loving family who will care for all of her needs and fill her belly with treats.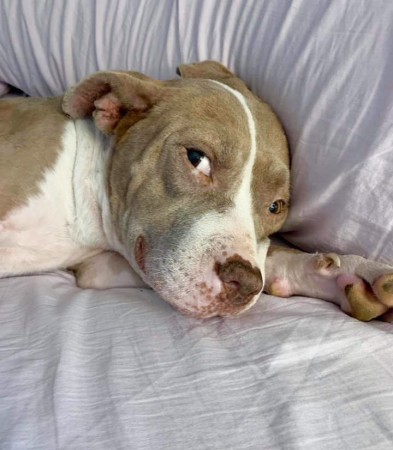 __________________________________________________________________________________________________________________________________
EUGENIA – On Chella's way to feed homeless dogs, she saw limping Eugenia passing a church, looking utterly defeated and dragging her dislocated back leg. Chella jolted out of the car and ran so fast she tripped, spilling some of the food and face-planted hard on the asphalt. She lifted her aching head, and Eugenia started shyly wagging her tail. She was starving and ate all the food, even everything that splattered during the fall––she even ate rocks. Eugenia was missing her front teeth. She looked at Chella with begging eyes not to be left alone, and her sweet face illuminated with joy when Chella picked her up. Once she was at the refuge, she never stopped wagging her tail.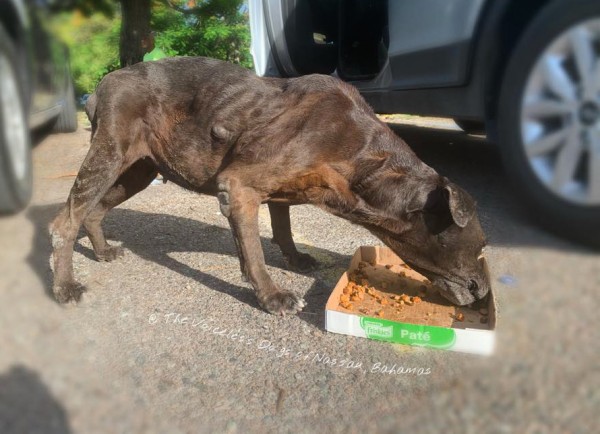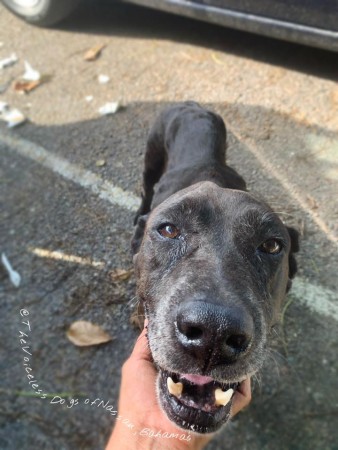 This gentle girl has kept her tenderness intact and wants nothing more than to love you. Eugenia was diagnosed with congestive heart failure and must be on the flight next week to be seen by a specialist.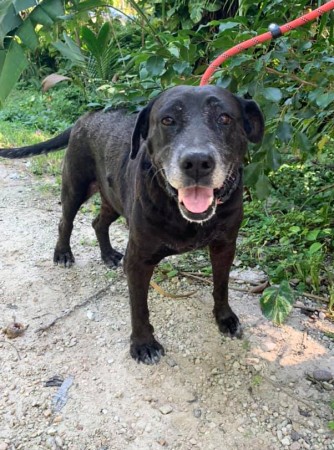 Will you please donate to help cover the cost of getting these precious souls off the island and into forever loving homes? Your life-saving gift will give them a chance at a new life and ensure Pawtcake Refuge has the funds to keep saving 100's more like them. These voiceless dogs of Nassau need us to fight to protect them. Please stand with us today and help them find their voice.
__________________________________________________________________________________________________________________________________
Dogs on the streets of Nassau get exposed to gut-wrenching cruelty. These dogs have rocks thrown at them, are tied up with wires, poisoned, purposely run over, shot, and left to die agonizing deaths. They experience unthinkable atrocities at the hands of vicious people. We find them living in ditches, abandoned in cars, sleeping in the mud with rats and cockroaches, starved, and scorched by the piercing heat.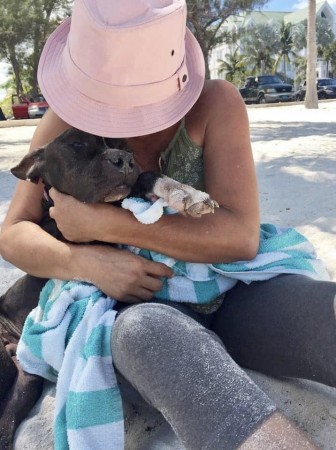 "The only humanity left in me is because of these homeless dogs that nobody loves on the streets. Because of them I feel alive despite the pain. Because of them I go through life helping as many as I can." – Chella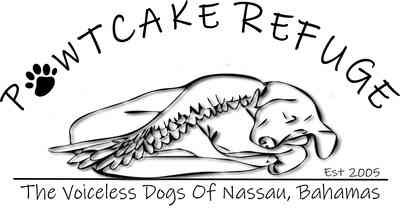 Pawtcake Refuge
About the Organization
PawtCake Refuge (The Voiceless Dogs of Nassau, Bahamas) is dedicated to rescuing abused, neglected, homeless, and abandoned dogs in the Bahamas. We are committed to every dog we save, providing them with all necessary medical care, and offering them the very best chance at a new life.
P.O. Box 54
Old Bethpage, NY 11804
USA
EIN: 81-3142530
---
Updates
Update

Thank you again for supporting our critical airlifts in April! We want to give you updates on some of the precious souls you helped save.

Perry: You may recognize sweet senior Perry from heartfelt goodbye photos with Chella. Upon arriving in the States, he received treatment for his severe allergies, conjunctivitis in both eyes, and dry eye. He had a fractured and splintered canine removed after he was healthy enough to undergo surgery. Perry is starting to play with toys! For the first time in his life, Perry is learning how to have fun.

Pawline: She arrived in the States still battling major skin, eyes, and ear issues. She received antibiotics, steroids, weekly medicated baths, and given a special diet. Until recently, this sweet girl has only known pain and discomfort covering her entire body. Now she's nestling in comfortably in foster care while she awaits her forever home.

Luca: This sweet little lady arrived in the States with severe dental disease and had other ailments to address. These days Luca is feeling much better, loving life, and enjoying basking in the sun at her foster home.

Kaius: He arrived with a broken left upper canine and required antibiotics, x-rays, and other treatments for his ailments, including a skin issue. This jolly boy is having the time of his life in foster care and is all smiles these days.

Tikka: Where do we begin? This pretty little lady was once covered in thousands of ticks. She was 100% anemic and suffered a severe allergic reaction to her blood transfusion. Upon arriving in the States, Tikka started receiving the best medical care. Like her friend Luca, she's now basking in the sun in foster care. And despite having two beds, she likes to curl herself up in a basket.

Heloise: She found her forever home last weekend!

Thank you again for answering our pleas for help. Your generosity helped ensure we had the necessary funds to give all of our dogs the best chance at a happy new beginning.

With love and gratitude,

The Pawtcake Team

Update

Wow! We're humbled by the incredible generosity and outpouring of support we received after asking for your help. Your contribution helped us reach 100% of our critical airlift goal! An enormous thank you goes out to you and everyone else who donated and shared this campaign.

In February, Chella stepped in to save Octavious from his owners, who wanted to kill him because of his health issues. She held him in her arms and told him he was finally safe. Ehrlichia and a fungal infection were just two of the ailments this precious boy was battling. Days after being rescued, Octavious had a venereal tumor removed and began chemotherapy.

Three weeks later, he transformed into a happy boy at the refuge.

Because of you, Octavious is receiving the best life-saving medical treatment in the States. He also received x-rays to investigate why his left hip sits higher and find the cause of the hard swelling of the right tibia.

A Message from Chella:
"It's been a crazy couple of weeks with all of the preparations and work related to the airlifts. The successful flights that took 76 of my babies on to the beginning of their new lives were the product of so much devotion from all of you that support Pawtcake Refuge. We had an incredible task to achieve... There is no way that we could accomplish what we do without your generosity.

It has been a difficult year for everyone, in so many ways, but you came to our rescue when we asked for help, and we couldn't be more grateful. We have transported over 300 dogs to the States and Canada in less than 5 months. It never could have happened, if not for the way all of our supporters came together each time we put out the call for funds.

The bright futures that await my homeless will happen because all of you cared enough to do your part to make their dreams come true. We have cleared the way for more to leave the brutal streets of the island, and the empty beds are already beginning to be claimed by new dogs that never knew the feeling of a soft place to rest.

Our work never ends. As long as there is another soul walking the lonely roads to nowhere, the refuge will be a safe haven where they can discover the life and love that they are supposed to have."

With love and gratitude,
The Pawtcake Team

Update

Both of our critical airlifts have safely landed in the United States! Your generosity has brought us 83% closer to our $70,000 goal. Our hearts are full of gratitude and appreciation. Thank you so much for your support!

Please enjoy a video of our April 29 passengers saying goodbye to Chella and receiving a warm welcome in Miami by Jennifer Brooks, the President and Founder of Second Chance Rescue NYC.


All of these precious souls are now receiving the best medical treatment. Their days of suffering will soon be like a forgotten dream as their lives continue to flourish and fill with love. More updates to come!

We still need to raise close to $11,600 to avoid tapping into our emergency savings fund. Will you please share this campaign once again with your family and friends? We're hoping more people will follow your lead and make a contribution.

Thank you for standing with us and being a voice to the voiceless dogs of Nassau. Your help is saving lives.

With love and gratitude,
The Pawtcake Team

Update

Today is the first of two flights bringing 76 dogs to the States, and many require urgent, specialized medical care.

Because of your generous donations, we're 70% closer to reaching our fundraising goal! We thank you from the bottom of our hearts.

We want to share an extraordinary update with you from a previous airlift passenger––a sweet miracle named Dragonfly. Last September, Chella rescued a puppy who was hit by a car and left to die in excruciating pain. Dragonfly had a broken spine and was severely emaciated. The vets told Chella he'd never walk again.

This little fighter endured multiple laser, acupuncture, and water therapy sessions, though we think the water ones were special to him and Chella.

Then it happened. Just 10 days after being rescued, Dragonfly courageously pushed himself up and walked. "It was the happiest day when he stood on his own." – Chella

But then his back legs developed Achilles tendinitis, and treatment wasn't available on the island. Last November, he flew to New York, where he received the best treatment for all his conditions. And now this precious soul is adopted, and his mom says he enjoys going on little daily walks!

Thank you to everyone who donated toward Dragonfly's care, shared his story, and sent out healing prayers. Thank you for loving these dogs as much as we do. Your support gives us a beam of hope that shines into the darkest days.

Please help us reach more people by sharing this campaign with your friends and family. That's how we'll reach our goal!


With love and gratitude,
The Pawtcake Team

Update

In just 4 days, your generous donations have helped us raise almost 50% of our $70,000 goal. You have humbled us by your generosity. Thank you! Thank you! Thank you!

Do you remember Baby Yophiel, the puppy with a basketball-sized belly? He was anemic, his stomach drowning in fluids, and an ultrasound revealed an enlarged heart, spleen, and liver and a heart murmur. This tiny boy needed to see a specialist immediately. A volunteer flew into the Bahamas to airlift him to the States on April 15.

Baby Yophiel is now receiving the best medical treatment and thriving in foster care with our friends at Second Chance Rescue NYC. This little guy is waiting for his Bahama friends to join him and have their happy beginnings.

Only 3 days left until our first critical airlift on April 29. A second flight will take off on April 30. We still need your help raising $70,000. Many of the 76 dogs require immediate specialized treatment like Baby Yophiel.

Do you think we can reach our goal? Please donate today and help us watch a miracle unfold. Your gift will help keep us from draining our emergency savings fund. Every dollar makes a difference.

You can also help us reach more people by sharing this email and our social media posts with your family and friends. Please stand with us and be a voice to the voiceless dogs of Nassau.

With love and gratitude,

The PawtCake Team
Only fundraisers with donations show up here.