PUP-Case: Berry
$25,511
Urgently Needed
$0
Raised
(0%)
Campaign Details
Berry is on her way to being a P.U.P. puppy-head.
We applaud Royal Jordanian Air for agreeing to helping us save her life.
We want to thank The Ark staff for all their help communicating with multi-agency officials to help us work this all out. We want to thank CDC, CBP, the Port Authority and the USDA for their multi-agency cooperation in working this all out.
Due to federal Regulations she will remain the airlines "property" until her 28 day hold ends on September 25, 2020. Her case will then be re-evaluated by multi-agency officials and she will be released to Paws Unite People as long as we all remain in compliance. Due to the regulations, we are unable to have her transferred to a private veterinary facility and she will need to remain at The Ark for now. HOWEVER we are able to have an independent veterinarian visit her at the Ark AS NEEDED.
Once released to our custody, we need to comply with local and state regulations in regards to her situation. We will need to keep her under our rescue and in New York State for 6 months from date of entry. We were advised that based on her re-evaluation going well, that can be at our facility or in a registered foster home. This means Berry can be adopted to a family if she is deemed healthy for adoption by a Veterinarian on February 25, 2021
Today the last step we needed to achieve in order to officially say BERRY IS SAFE happened!!!!!!!!
I am making calls to veterinarians we work with to see who is able to visit Berry at The Ark. I have discussed her case with several specialists and have a million more calls to make. That being said, we can safely say we need to raise $17,661 on the low end and $25,551 on the high end for all of her care. We are taking this day by day. Costs are subject to change as her veterinary care progresses. Could go up... could go down. As always, we will adjust the goal accordingly. This goal is for her Quarantine costs AND her after release expenses. I tried to break it down so it makes sense.
We here at Paws Unite People appreciate ALL of you that helped us make this happen. We appreciate your support of our work.
Thank you once again for restoring my faith in humanity.
I am officially tired, but am over the moon happy that I can actually get some much needed sleep tonight as this is a huge weight lifted off my shoulders. It has been quite the roller-coaster ride.
Meredith Festa, President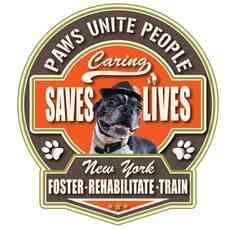 Paws Unite People
About the Organization
Our mission is simple. We assist shelter, abused, and neglected animals in finding their purpose in life through rehabilitation and training.
c/o The Festa Family, 252 Locust Drive
Rocky Point, NY 11778
United States
EIN: 46-2371384
---