Tatiana, Red, Ralph, and Ryder!
Chapman's Dachshund Rescue
Please pick your very own square with a dollar amount to donate!
Please pick your very own square with a dollar amount to donate!

If you're in a hurry, just click the amount below you'd like to donate and we'll find you the best available square.
Let's see all the great photos from our wonderful supporters!
Campaign Details
We have 4 special dachshunds right now that are in need of extensive vetting ranging from $300 to over $1,000 for each dog.  Please share and help if you can!  We are giving away a beautiful dachshund framed art to anyone who would like to contribute and donate the middle square - Thank you!!
Tatiana: is a beautiful senior girl who was surrendered to us because her owner could no longer care for her.  She needs heart worm treatment, tumors removed and biopsied, a spay and a dental.
Red: is from Charlotte animal control where he was surrendered and he was adopted by us and then sadly returned again, no fault of his own.  He is going to the cardiologist on December 20th  because he has a very strong heart murmur and cough.  Red needs tests, ultrasound, and medication.
Ralph: is just the sweetest little guy we received as a stray after his stray hold was up from a good samaritan who found him.  Sadly no one was looking for him and he was more than likely dumped.  We immediately took him to our vet for blood work and have been treating him for cushings.  He is now well enough for the rest of his vetting so that he can be adopted.  Ralph needs a neuter, tumor removal, and biopsy.
Ryder: is back here at Chapman's for the second time. We treated him for heart worms and then adopted him out.  Sadly he was returned 2 years later and is heart worm positive again. Ryder has already had a dental and is neutered.  His owner fell on hard times and we had to get him back down here all the way from northern Ohio.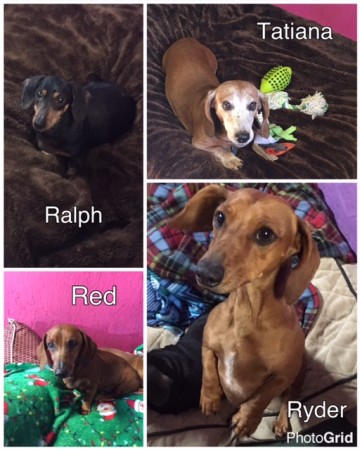 Chapman's Dachshund Rescue
About the Organization
1200 Chambers Rd
York, SC 29745
UNITED STATES
---