Baby boy starved to the brink of death!
$5,100
Urgently Needed
$0
Raised
(0%)
The Fundraiser:

SNARR Northeast Rescue
Campaign Details
Noah's muscles are completely wasted away, he has NO reserves. His red blood count is dangerously low. He's riddled with parasites and needed an emergency transfusion. Noah is literally running on empty and was SO CLOSE to death. He is definitely not "out of the woods" yet...
A very rural shelter in Texas asked SNARR to help and how could we possibly say no?
He held on just long enough to receive his second chance and we are honored to be able to give it to him. Noah is hanging on by a thread. We rushed him to the vet and we are doing every diagnostic test we can to make sure nothing is missed. The doctor said if she could, she would give him less than a zero on his body score.


Noah will require lifesaving medical care, hospitalization, a ton of TLC, and a very long road to recovery. Please rally around Noah and help give him the strength he needs to survive. Please help Noah get his second chance.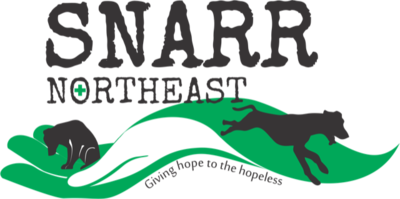 SNARR Northeast Rescue
About the Organization
Special Needs Animal Rescue And Rehabilitation (SNARR Northeast) is NY based 501(c)(3) animal rescue founded in 2011. Dedicated to saving dogs most in need, SNARR saves dogs who would otherwise not survive, and house them in foster care or at our facility. SNARR commits to doing everything in our power to help them survive and thrive. We receive no government funding, and rely entirely on private donations to support our efforts.

WHITE PLAINS, NY 10602
US
EIN: 473002801
---
Updates
Update

Do you even recognize him?

Noah has been slowly gaining weight in foster care and is now able to eat kibble normally and be on a regular diet. He's a super sweet and goofy boy and is learning his manners. He loves to snuggle with humans and other dogs and is also quite mischievous as any puppy should be. It's wonderful to see him just being a dog and enjoying life's simple pleasures that he never had access to before being rescued.

We always love to see these amazing transformations and are so grateful for our amazing donors who make them happen! Noah is going to be available for adoption soon :-)

Big hugs,
SNARR

Update

This boy has rallied!!

Noah was finally able to get a bath to remove the caked on urine, poop, etc., as his temperature has stabilized enough that it was safe to do so. He is eating and drinking very well and gaining more and more strength each day. Noah gets 4-5 small meals a day so that we don't overwhelm his system. We are even starting to see a personality come through! Noah still is getting bloodwork checks to monitor his red count and his white cells. He may need another transfusion, as his numbers are still very low despite the drastic improvement.

Noah has a long way to go but this incredible boy has rallied and we are so grateful for all of your support to save his life.

Big hugs,
SNARR

Update

Noah's bloodwork is all trending in the right direction. He still cannot stand for more than a few seconds or walk, but is slowly gaining energy.

Poor Noah is covered in pressure sores, is caked in urine and some sort of grease that we can't identify. The vet doesn't want to give him a bath yet, because they don't want to do anything that would lower his temperature at this point.

It breaks our hearts to think how long he was like this, with no access to food. He is being fed multiple times a day In very small amounts, as to not cause re-feeding syndrome; a dangerous imbalance of electrolytes or twisting of his gut. Noah continues to be incredibly sweet with everyone he meets and his little nub wags all the time...

We've all got you, Noah!

Big hugs,
SNARR

Update

Thank you so much for caring and helping take care of Noah's initial lifesaving care! Thanks to you and so many other amazing people, we've already achieved 92% of our goal! 🥰

We don't have any additional photos or video of Noah at this time (and you probably wouldn't want to see them anyway), but here's the latest:

All things considered, he's doing well. They got him to stand for about 15 seconds on his own. They said he has pressure sores all over him from being unable to move or walk for an extended period of time. His bloodwork is showing some improvement from infection and from being dangerously anemic. He's also eating and drinking. They said that in spite of everything he's been through, Noah is just the sweetest little boy...

Please keep sending those positive vibes his way! Hopefully, he's only moving forward from here.

Big hugs,
SNARR