We need some #GivingTuesday Love!
Looking Glass Animal Rescue
Please pick your very own square with a #GivingTuesday paw heart below to donate!
Please pick your very own square with a #GivingTuesday paw heart
below

to donate!

If you're in a hurry, just enter the amount below you'd like to donate and we'll find you the best available square.
Please help us get through this...
Updates
Update

52% of GOAL! I am on pins and needles. By now everyone has settled in from work - some eating dinner others readying for bed but I have to ask one more time - PLEASE SHARE and donate if you can.

FOR EVERY PERSON YOU SHARE THIS WITH, ANOTHER ANIMALS LIFE HAS THE POTENTIAL TO BE SAVED!

Share with a personal note as to why this matters to you and 48% more is possible!

In the meantime, we are working on our next two transports. We have a total of 22 animals scheduled to meet their forever families in the next two weeks. Followed by another 15 at the end of the month. Dogs and Cats, puppies and kittens, have been recovering in foster homes and are finally ready to make their way to their forever homes. That happens because of YOU.

If I haven't said it today, each of you ROCK. You make this thing called LGAR happen and we are so grateful for your support!

Update

As of right now, we are 44% of our #GivingTuesday goal! For those that have donated and shared, THANK YOU! Every dollar makes a huge difference.

Case in point, sweet Ella who was abandoned by her "rescue" back in May of 2019. Sick and growing skinnier by the day, she was not provided any medical care and was simply forgotten about. We heard about her plight and got her out of there. Yesterday she spent the day at our vet and while we wait for test results, she is resting comfortably and eating as much as she wants in her foster home.

Sadly, there are FOUR others that were abandoned with her that we are working to save. WE CAN'T DO THIS WITHOUT YOU

If you can't donate, please continue to share our campaign with friends, family, and co-workers, and your social media communities. Every person touched is a potential animal's life saved.

Update

As of right now, we are 28% of our GivingTuesday goal! With 4 more days to go, I just know we can do this. What is "this"? THIS is helping animals like Molly. Found emaciated and chained, it is a miracle she survived. But she did. And she is thriving with her new family.

It has been so much more difficult than ever before to keep doing what we do, but we are determined to make 2021 another amazing year. We can't do that without your help. Please continue to share our campaign with friends, family, and co-workers, and your social media communities. Every person touched is a potential animal's life saved. Thank you for joining us on this journey.
Fundraise for this Campaign
Campaign Details
At this time last year, I would have never projected what 2020 is today. As each day passes, we are reminded of just how tenuous life is and that every decision we make, big or small, has a ripple of consequences behind them. It has been a struggle for so many undeserving of such difficulty. It is why this year's GivingTuesday feels so different.
Imagine looking into an injured or sick animal's eyes knowing that your ability to ease their pain and suffering has been strangled by COVID? I lay awake each night praying that by the Grace of God, we will somehow get through this... I know we ask, a lot, but the reality is we are losing the battle against Goliath as we struggle without the traditional methods of fundraising. The impact is devastating for animals like our litter of 10 Basset Hound puppies whose mom was abandoned while pregnant. Yesterday it was just one puppy struggling to breathe, today it is three. Diagnosed with pneumonia the costs are mounting to control the spread and fight the illness. It is terrifying to think that the difference between life and death is money. But that is the sad reality we face today. That is why we NEED YOU.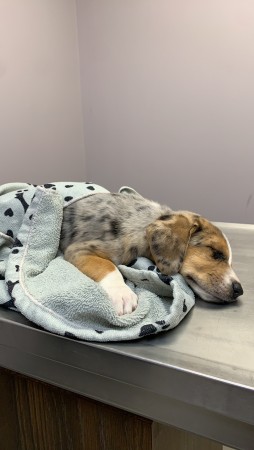 While we are so grateful to our community of supporters for helping us keep our rescue efforts going, 2021 looks bleaker by the day as we struggle to pay for the animals in our care NOW. It was never easy but this crisis has impacted us in ways that make us teeter on the brink of survival. We hold our breath hoping that today is the day we get just a few more donations from our thousands of followers. We may not hear their pleas but we see their eyes, their souls pleading for just one more chance – to feel healthy, safe, and loved.
Each year we save hundreds of animals from death's door, taking on the hardest cases that most shy away from. As a small rescue, we have accomplished amazing things; often caring for animals that many larger, more affluent rescues dare not touch. The worst of the worst. The overlooked. The forgotten. The pleas increase by the day. And now we wonder if we can continue? I hope so but it won't be without your help.
GivingTuesday falls on December 1st, four days after Black Friday, and the day after Cyber Monday. We ask that if at all possible, you try to spend just a tiny bit less on those days so that you can give a tiny bit to us. If we can get enough people to give us a tiny bit, we can get through the end of the year and maybe beyond. We would even be more grateful, if you could help a little now, in the spirit GivingTuesday. We could use it...
We also know that a lot of you are struggling too, so if you're not in the position to donate, you can also help by sharing our campaign with others you think might want to help, or even better, start your fundraising campaign by clicking the button above that says "Fundraise for this Campaign." It's so simple.
Our mission radiates as each day goes by; our determination is focused on making a difference both for animals in need and the families that open their homes to them. It is a symbiotic relationship for which the ripples of happiness extend for years to come. Yes, times are tough and sometimes it almost seems impossible as we look back and wonder how we got by. BUT WE DO. WE WILL. TOGETHER.
Wishing you a blessed and joyous holiday season. Here is to a better 2021!
Thank you!
Jody Harris-Stern and the LGAR Team
"It is an absolute human certainty that no one can know his own beauty or perceive a sense of his own worth until it has been reflected back to him in the mirror of another loving, caring human being."― John Joseph Powell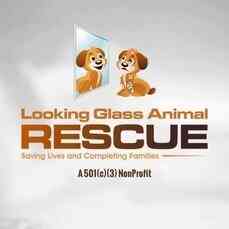 Looking Glass Animal Rescue
About the Organization
Looking Glass Animal Rescue is an award-winning nonprofit volunteer-based animal welfare organization dedicated to rescuing animals from high-kill shelters, hoarding situations, puppy mills, and more. While we welcome all animals in need, we specifically focus on animals that are often overlooked due to age, breed, illness or injury and frequently requiring immediate, often costly medical attention that shelters are unable to provide.
PO Box 1175
Ridgefield , CT 03813
USA
EIN: 81-081006
---