Badly injured and hiding for his life!
$2,500
Urgently Needed
$0
Raised
(0%)
The Fundraiser:

Second Chance Rescue Inc
Campaign Details
We are unsure if his eye can be saved, but our veterinary partners are doing everything they can. We need your help today to do everything possible for Glynn. He deserves better…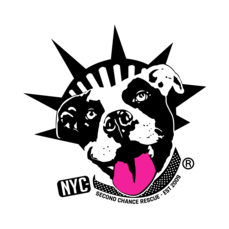 Second Chance Rescue Inc
About the Organization
In 2009, NYC Second Chance Rescue began as a small dream, founded on the firm belief that all animals deserve love and care, and that no animal should ever be subjected to abuse, neglect or homelessness. All proceeds go directly to the animals, and to date, we have relied solely on donations from loyal supporters. Our mission is to offer a second chance to those animals less fortunate — those with critical medical, emotional or behavioral issues.
PO BOX 570701
Whitestone, NY 11357
US
EIN: 264835303
---
Updates
Update

Did someone say bedtime?🌙 Glynn's got his favorite stuffy🧸 and the best spot on the couch.

Look how far he's come! You helped make this happen!! Now all he needs is a mama or papa to read him a bedtime story.🌌 Find out more about adoptable Glynn at www.nycscr.org.

Big hugs!
Second Chance Rescue

Update

Baby Glynn checking in!

This fuzzy little peach is 2 years old, 45 pounds, and as cute as they come! He's a great walking buddy, friendly with other dogs, not a fan of kitties, fully potty trained, loves downtime in his crate, takes his afternoon naps very seriously, knows his basic commands, and loves soft plush toys. Glynn has met the young children his foster babysits and is reportedly very sweet and gentle with them. All in all, Glynn is a very well-behaved, good boy. He endured the unimaginable before being rescued, which left him with scars all over his body and some timidness when entering new, busy environments. But his confidence has grown exponentially, and we are so happy to see him be such a happy, affectionate, playful young dog. Glynn is the bees knees, and he's available for adoption!

Adopt Glynn by filling out a free application at www.NYCSCR.org/adopt

Big hugs!
Second Chance Rescue

Update

Glynn says, "is this thing on??🎤" This little man is still looking for a foster or adopter! His current foster home can only hold him until March 3; at that point, he will need other placement plans to avoid landing at our already full Rescue Center.

If you recall, this little muffin was rescued after a horrible animal attack, and we do not want him landing back in boarding. Glynn is 2 years old, house and crate trained, and a great walking buddy. He's mellow and sweet and friendly with other dogs. This poor guy needs stability in his life and would benefit so much from a home where he can settle down and feel safe.

Apply today to adopt or foster Glynn at www.NYCSCR.org

Big hugs!
Second Chance Rescue

Update

Glynn's physical transformation is truly miraculous, in large part because of your help!

Now, he is ready for someone to transform his life once more by adopting him. A few months ago, Glynn was found in critical condition behind trash bins after a suspected animal attack. Despite that traumatic experience, he is still loving and trusting with other dogs. He's mellow, gentle and sweet, and well-behaved. Glynn is 2 years old, house and crate trained, and a great walking buddy. He has overcome so much, and has remained sweet and loving through every moment.

Make Glynn your Valentine and fill out an application at www.NYCSCR.org/adopt.

Big hugs!
Second Chance Rescue

Update

Great news!! Glynn has officially found his forever home! He has a new mate and a mom who loves him to the moon and back.

This happened because of you!! ❤️❤️❤️

Big hugs!
Second Chance Rescue

Update

Pupdate on our darling Glynn.

This gentle boy is progressing so beautifully in body and in spirit. Every day, Glynn's confidence grows, and his true personality shines through more and more. Little Glynn and his friends in Louisiana are prepping him for his trip to NYC! We are still looking for a foster (or adoptive) home for this sweet boy to land in!❤️

Glynn is good in his crate, very mellow and quiet, does well on leash, and needs a home where he can continue to progress and come out of his shell. Glynn has been sweet and gentle with everyone he has met thus far and will be dog tested.

Big hugs!
Second Chance Rescue

Update

Glynn is still recovering from his surgery, and thanks to the love and compassion that the staff at the hospital is showing him, his personality is starting to shine.



This poor boy has been through hell and back; we cannot imagine the suffering he has gone through. Thankfully those days are behind him. His confidence is being built up, and he realizes that there's nothing left to fear. He is safe now because of your generous support.

Big hugs!
Second Chance Rescue

Update

Glynn was rushed to a hospital for surgery to close the deep lacerations on his mouth, eye, and chest.

Glynn is recovering well, but he has definitely been through far worse than we know. When the staff takes him out for walks, he falls to the floor in fear when he sees other dogs. We cannot imagine what happened to him; all we can do is try to show him the good in the world.

We want to thank everyone for rallying for Glynn. Your support is immeasurable, and he is truly loved.

Big hugs!
Second Chance Rescue