Please pick your very own square with a heart
below

to donate!

If you're in a hurry, just click the amount below you'd like to donate and we'll find you the best available square.
Campaign Details
This Christmas, we re excited to support the New Orleans Family Justice Center by building Brooke's Kindness Bags for the children of domestic violence survivors in hopes that it will help them and their families celebrate the holiday season. 
As a domestic violence survivor, our director, Melissa, knows first hand the impact Christmas can have on survivors and their children. 
"Helping children is our number one priority with the Brooke Erin Posey Foundation. The Foundation has been a great way for me to give back and to help Brooke's favorite people- children- all in one." 
For our #GivingTuesday Fundraiser this year, "Christmas Smiles", we are raising funds to fill 42 bags for the children of NOFJC, ages 7-17. 
A donation as little as $10 can provide: a gift card to a fast-food restaurant or store, art set, personal hygiene items, socks, games, scarf, gloves or other like items to be included in our bags.
If you sponsor a Brooke's Kindness Bag for $50, the name of your choosing will be included in the bag's Christmas Card as well as a card mailed to you.
Thank you and let's send "Christmas Smiles" to the children of the New Orleans Family Justice Center!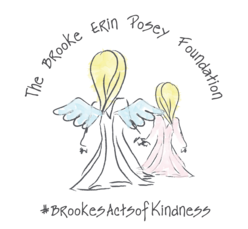 Brooke Erin Posey Foundation
About the Organization
We are a 501(c)(3) non-profit organization serving New Orleans and the surrounding areas. Our mission is to promote charitable and educational events for local children's charities and spread awareness for those charities in memory of Brooke. Spreading kindness by giving a Brooke's Kindness Bag to children facing adversities in our community, one bag at a time.-
6841 Wuerpel Street
New Orleans, Louisiana 70124
UNITED STATES
EIN: 83-4341649
---