Summer Smile Campaign
The Grey Muzzle Organization
Updates
Update

You are truly amazing! Because of your generosity, we set a new Summer Smile record, raising an incredible $27,506. Coupled with our matching gifts, that means more than $47,000 to help senior dogs smile again. We couldn't have done it without you! I have been so touched by your gifts, your dedications, and all those sweet, smiling faces. Thank you for having a heart for senior dogs and sharing that love.

Stay tuned for updates on our 2021 calendar featuring your pups' smiles!

My best,

Lisa Lunghofer
Campaign Details
If your heart has been touched by an old dog, you know how much they have to teach us about loyalty, compassion and eternal love.
The senior dogs that share our hearts and homes are part of our family. Sadly, many old dogs are not that fortunate. Senior dogs slow down. They develop medical issues. And many find themselves alone, afraid, and at-risk in shelters across the country.
The Grey Muzzle Organization creates happy endings to these heartbreaking stories--on a national scale. We improve the lives of at-risk senior dogs by providing grants and other resources to animal welfare organizations nationwide. Our grants provide critically needed medical and dental treatment; foster and hospice care; adoption promotions; and programs that help keep old dogs in good homes.
We are the only national organization solely focused on the well-being of senior dogs.
About the Summer Smile Campaign
We launched our fifth annual Summer Smile Campaign to give more senior dogs sweet new smiles. Our goal is to raise $20,000 for our dental fund. One of the biggest expenses facing shelters and rescues that care for senior dogs is the high cost of dental care. In fact, lack of dental care is a major barrier to adoption and the inability to provide specialized care is a common reason for owners to surrender their dog. Grey Muzzle's dental fund eliminates those obstacles. All of the funds raised through our Summer Smile campaign will be used to provide dental care for senior dogs.
Your generous support will give hundreds of senior dogs the dental care they need to feel better and find--or stay in--a loving home. PLUS, your donation will be matched, dollar for dollar, by our generous supporters, the Cook Family and a generous donor whose gift honors the memory of Roman, Dakota, and Shannon. That means a total of $40,000 to help senior dogs in desperate need of dental care.
Every dollar you give equals $2 to help senior dogs smile again!
About the 2021 Calendar Contest
We want to see your grey muzzle's smile too! Support the Summer Smile Campaign and enter your senior dog in our 2021 calendar contest. Simply make a tax-deductible donation to our Summer Smile Campaign and then upload your favorite picture of your senior pup on our campaign's GivingGrid platform. At the end of the campaign, our Advisory Board members will choose their favorite photos to be included in our 2021 Grey Muzzle calendar. A picture of the entire GivingGrid—including all of the pictures submitted—will be our December photo!
Endings to Smile About
All of the money raised through the Summer Smile Campaign will help dogs like Charles.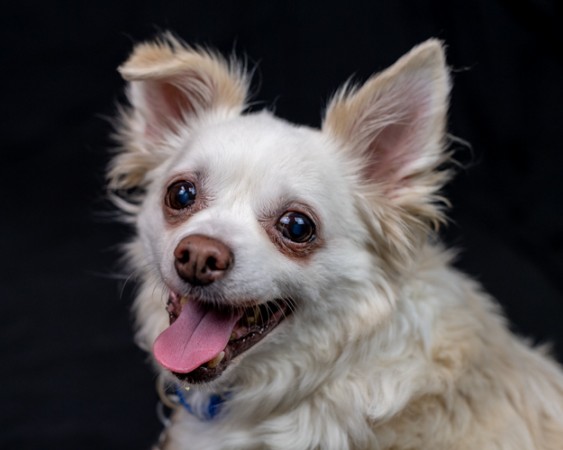 Sixteen-year-old Charles lost his home when his family had to move in with others. He arrived at Mostly Mutts, a Grey Muzzle grantee in the Atlanta area, with undiagnosed diabetes and a seriously sore mouth. After receiving much needed veterinary and dental care, and starting on insulin and diabetic dog food, he's feeling so much better and enjoying life in a loving foster home. This little cutie craves cuddling so much, he barks to ask for more petting, please!
Thanks to Grey Muzzle grants that you make possible, hundreds of at-risk senior dogs like Charlie receive the costly dental care they need before going to new homes in communities all around the country. Because of you, their happy pain-free smiles are making the world a little brighter!

The Grey Muzzle Organization
About the Organization
Grey Muzzle improves the lives of at-risk senior dogs by providing funding and resources to animal shelters, rescues, sanctuaries, and other nonprofits nationwide. We are not a shelter or rescue group. Rather, Grey Muzzle funds programs such as hospice care, senior dog adoption, medical screening, and dental care to help old dogs at animal welfare organizations across the country. Our vision is a world where no old dog dies alone and afraid.
14460 Falls of Neuse Rd. Suite 149-269
Raleigh, NC 27614
United States
EIN: 26-1965495
---