We need some #GivingTuesday Love!
Great Dane Rescue of Southeast Texas
Please pick your very own square with a #GivingTuesday paw heart below to donate!
Please pick your very own square with a #GivingTuesday paw heart
below

to donate!

If you're in a hurry, just enter the amount below you'd like to donate and we'll find you the best available square.
Thank you for helping us connect Great Danes to great people!
Campaign Details
We are so grateful to our community of supporters for helping us survive this wild year. Our work is too important, so we need to get through this somehow. The world has stopped, but our work has not.
GivingTuesday falls on December 1st, four days after Black Friday and the day after Cyber Monday. We ask that if at all possible, you try to spend just a tiny bit less on those days, so that you can give a tiny bit to us. If we can get enough people to give us a tiny bit, we can get through the end of the year and maybe beyond. We would be even more be grateful, if you could help a little now, in the spirit GivingTuesday. We could really use it...
We also know that a lot of you are struggling too, so if you're not in the position to donate, you can also help by sharing our campaign with others you think might want to help or even better, start your own fundraising campaign by clicking the button above that says "Fundraise for this Campaign." It's so simple.
Somehow we always find a way to make it through for the benefit of those precious souls. Sometimes it almost seems impossible and we look back and wonder how we got by.
This year is no different. We could greatly benefit from your generosity to help us continue to help the Danes.
Thank you!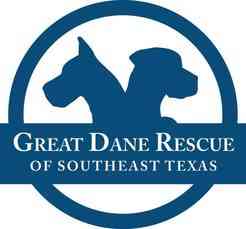 Great Dane Rescue of Southeast Texas
About the Organization
We rescue abandoned, sick, injured, and abused Great Danes from various Houston area shelters and owner surrenders. We place all of our Gentle Giants into foster homes where they begin their rehabilitation. We temperament test each dog, complete a full medical evaluation including heartworm test, spay or neuter each dog, and fecal. Our foster parents begin to teach each foster dog basic manners and prepare them for a loving home.
16516 El Camino Real #402
Houston, Texas 77062
UNITED STATES
EIN: 26-4333441
---