2018 Black Cat Fundraiser
Feral Fixers
Campaign Details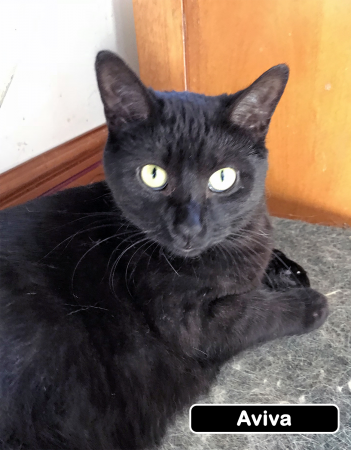 Aviva was trapped in an industrial park in Bensenville with her sister and mother in 2017. Mother was returned and Aviva and her sister Astrid went on to be adopted. Aviva's adoptive home did not work out and she was returned this year and has shown to be a sweet, snuggly girl who loves to sleep with her foster. Aviva has one of those silky and unusual undercoats of smoky tabby and her wide eyes are always looking for more fun. She will talk to you in her chirpy voice and would be a great addition to your family. Feral Fixers will always do their best to make sure that all of our adopted cat have great homes and if circumstances change in those homes, ask that they be returned to us as all of our adoptables deserve the best home possible.
In exchange, you can make a difference in theirs!
The #GivingTuesday Black Cat Fundraiser provides much-needed funds to support the many cats and kittens that have no caretaker to donate to cover the costs of spay/neuter, and there are many! We neutered 148 black cats from November 2017 to November 2018!
We currently have $3,500 in funds to be matched - Please help us get there by December 31st!!
And, be sure to use Amazon Smile (designating Feral Fixers as your supported Charity) when you shop online - it all counts!"
(Blackie, our previous spokescat, was transferred to Hinsdale Humane Society for adoption and can be visited there)
About the organization
Feral Fixers
PO Box 1416
Lombard, IL 60148
UNITED STATES
EIN: 13-4364615
---