Support Seedlings 6th Season Campaign!
$7,260
Our Goal
$0
Raised
(0%)
The Fundraiser:

Seedlings Theatre Company
Please pick an available square with a dollar amount from $1 to $120 to donate.
Please pick your very own square with a dollar amount to donate!

If you're in a hurry, just click the amount below you'd like to donate and we'll find you the best available square.
Help us plant theatre across the region by filling every square!
*Donated more than the face value.
Campaign Details
Seedlings Theatre Company plants theatre across the region!
We love seeing children or new actors experience the joy and confidence that comes with a strong performance.
We love experiencing alongside our audiences the joys and sorrows, fear and festivities our characters pursue.
We love engaging in conversations that show the show made you think and see the world through another's eyes.
We love creating art together.
Will you join us?!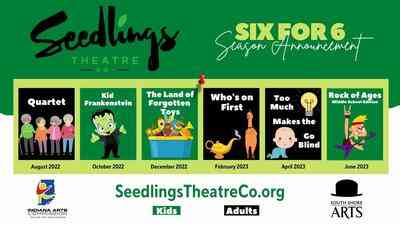 Seedlings Theatre Company
About the Organization
Seedlings Theatre Company is all about planting theatre arts where they don't exist, whether in new actors, new locations, new plays, or styles.
357A S State Road 49
Valparaiso, IN 46383
United States
EIN: 82-1767875
---