Picture Your Pet in Our Calendar
Humane Society of Utah
Please pick your very own square with a dollar amount to donate!
Please pick your very own square with a dollar amount to donate!

If you're in a hurry, just click the amount below you'd like to donate and we'll find you the best available square.
Fill this grid and our calendar with great photos of your pets!
Thank You Gifts
Updates
Update

You are pawsome! Thank you for supporting the Utah Humane Society. We are over halfway to our goal of raising $4,000 for homeless animals and filling our 2020 calendar with pictures of your adorable pets. Help push us over top by sharing our campaign with your friends and family. All proceeds go straight to our mission of providing compassionate care for animals in need.

Thank you again for your support. We can't do it with you.




Update

Thank you so much for participating in our 2020 Calendar. After just two days we are already 25% of the way to our goal of raising $4,000 to help animals in need! Be sure to share this opportunity with your friend and family to ensure we reach our goal and fill our calendar with adorable pets!

PS - We've sold all our month features! Thank you to everyone who was able to grab a spot before they were gone.
Campaign Details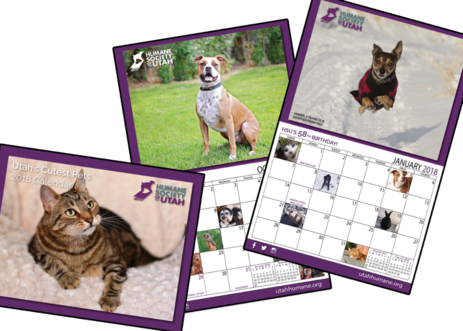 About Humane Society of Utah
The Humane Society of Utah is dedicated to the elimination of pain, fear, and suffering in all animals. We use socially conscious sheltering practices to keep pets and people together, bring them together, and help move each animal to their most appropriate outcome as quickly as possible.
HSU is the largest open-admission animal welfare organization in Utah. We welcome any companion animal that can legally be admitted and work to find each pet a new loving home.
Since 1960, HSU has been sheltering homeless animals and creating an environment of respect, responsibility, and compassion through our programs, education, and legislation. Click to read more about our history.
About Our Calendar Opportunity
For a tax-deductible donation of $40 or more and we'll feature a photo of your pet in a date square. Don't miss this opportunity to help animals in need and show off your fur-baby. **We have sold out of Month Features. Thank you to everyone who purchased a month spot!**
Is your pet more of the private type and not interested in being featured? That's okay! Make a gift in their honor to support Utah Humane and mission of compassionate care for animals. Receive a free copy of the 2020 HSU Calendar for a gift of $20 or more!
Share the Love!
Invite your friends and family to join the fun! Share this campaign on social media and help us fill our calendar with your adorable pets and raise money to save animals.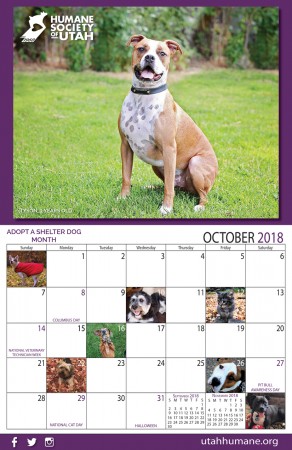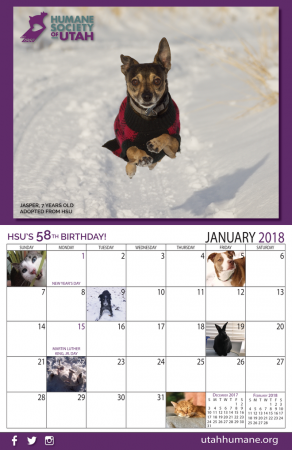 About the organization
Utah Humane is a local, independent 501(c)(3) private nonprofit organization and the largest open-admission animal welfare organization in Utah. We receive no city, state, or federal government funding, and rely solely on private contributions. Utah Humane is not affiliated with the Humane Society of the United States (HSUS) and does not any portion of dues or donations paid to national organizations.
Humane Society of Utah
4242 South 300 Wst
Murray, UT 84107
United States
EIN: #87-0256350
---