Campaign Details
In 2014, we expanded the play yards to the red lines, with 6ft chain link & 6ft no-climb wildlife fencing.  This area is affectionately known as The Outback.
With the funds raised from the Memorial Wall, we will be purchasing shade trees & lilac bushes to plant along the east & south perimeters of The Outback.  These trees will provide a wind & dust barrier, as well as work as a sound absorbing layer & provide shade to the main yard areas.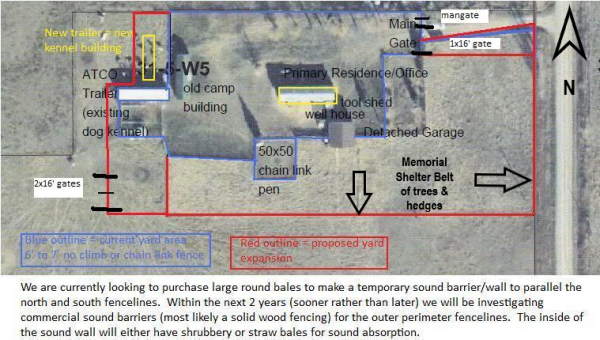 Alberta (AB) Herding Dog Rescue
About the Organization
Our goal is to rescue, rehabilitate, re-train and re-home herding breeds from the local areas first and nationally when we can. We try to match up working homes for those dogs who need to herd, pet or sport homes for those dogs who do not and generally active homes that can give each dog what they need physically and mentally.
Box 21, Site 4, RR 1
Didsbury, Alberta T0M 0W0
CANADA
---